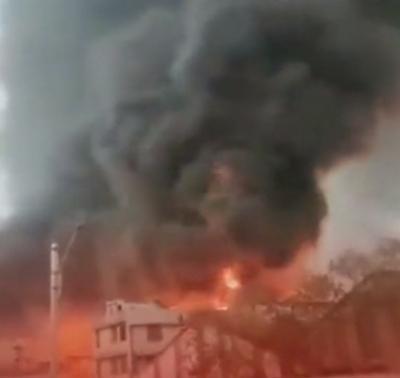 A massive fire broke out at a warehouse in Hyderabad's Baghlingampally area on Thursday. There was no loss of life reported.
Fire fighting personnel with the help of six fire engines battled for four hours to douse the fire at the godown near VST.
According to police, the building was being used to store decoration material used for weddings and other ceremonies. Flames leaping out of the building and thick smoke which engulfed the entire area sent panic among inmates of the adjoining houses.
Minister Talasani Srinivas Yadav visited the scene and spoke to higher officials of the fire service department and police.
The minister told reporters that the owner of the godown had not taken any fire safety measures. Officials found no equipment on the premises to douse the fire.
Officials suspect that a short-circuit led to the fire.
The incident comes close on the heels of a massive fire that ravaged a multi-storey commercial building in the city killing three persons.
The fire broke out on January 19 in the six-storey building housing garment store at Nallagutta on Ministers Road in Secunderabad.
Two fire service officers were injured while trying to douse the fire, which raged for almost two days. Several houses around the building were evacuated as a precautionary measure.
Three workers went missing but rescue workers could find skeletal remains of one person.
As the fire rendered the building unfit for further use, municipal authorities razed it two days ago after a six-day long demolition drive.
Srinivasa Yadav said after the latest fire incident that traders should take all precautions in view of summer. He warned that stringent action would be taken if their negligence leads to any disaster.
"This is the final warning for the commercial buildings," said the minister.