Telangana
Over 43,000 staff of TSRTC to become government employees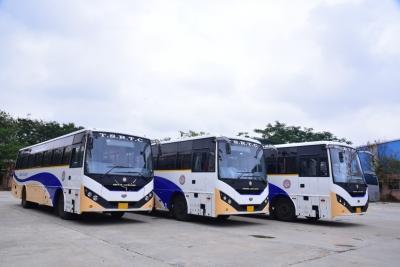 The Telangana Cabinet on Monday decided to recognise over 43,000 employees of the Telangana State Road Transport Corporation (TSRTC) as the employees of the state government.
The Cabinet, at its meeting chaired by Chief Minister K. Chandrasekhar Rao, constituted a sub-committee comprising officials to frame the guidelines.
A total of 43,373 TSRTC employees will become government employees.
A Bill in this regard will be introduced in the Assembly session, beginning on August 3.
Industries Minister K. T. Rama Rao told media persons that the decision was taken to protect the TSRTC as a social obligation and to strengthen the public transport system.
The Cabinet also decided to expand Hyderabad Metro at a cost of Rs 60,000 crore in next 3-4 years. A double-decker Metro line will be laid from Jubilee Bus Station. To Thumkunta and Patny to Kandlakoya at Outer Ring Road (ORR).
The minister said while one level will be for motor vehicles, the second level will be for Metro trains.
Hyderabad Metro will also be extended from Isnapur to Miyapur, Miyapur to Lakdi Ka Pul, LB Nagar to Pedamberpet, Uppal to Bibinagar, Kottur to Shadnagar and Uppal to ECIL.
A Metro Rail is also planned around the 159-km Outer Ring Road. The Hyderabad Metro Rail and the Municipal Administration Department have been asked to prepare detailed project reports.
The Minister said the state would also request the Centre to cooperate in executing the project. He remarked that even if the present government at the Centre failed. To cooperate, the next government at the Centre will extend the help. He predicted that a coalition government will come to power at the Centre next year in which BRS will have a key role.