Telangana
Telangana floods claimed over 40 lives, Cabinet approves relief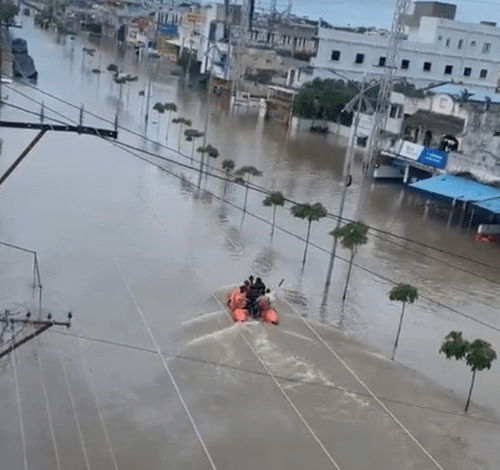 Heavy rains and floods in Telangana claimed over 40 lives, the state government said on Monday.
The state Cabinet decided to release Rs 500 crore for immediate relief operations and repair of the damaged roads.
The Cabinet, in a meeting chaired by Chief Minister K. Chandrasekhar Rao, decided to pay ex-gratia to the families of the deceased and also paid homage to the people who died in the floods.
The meeting discussed the damages due to heavy rains. Bhupalpally, Mulugu, Hanmakonda, Nirmal, Adilabad, Khammam and Kothagudem districts were affected by heavy rains and floods. The floods damaged crops, roads and bridges while canals and lakes breached.
It decided to undertake repair of R and B and Panchayat roads and on a war footing .
The Cabinet requested the Collectors to send details of the crop damages. The Collectors will go to the field and get information to help the affected farmers. The damages will be enumerated. Damaged culverts and roads will be repaired and will be made motorable soon.
The Cabinet was told that 27,000 people were shifted to relief camps in the affected district and decided to provide rehabilitation to all.
The Cabinet discussed Munneru vagu floods in Khammam and decided to construct RCC flood wall. Officials have been asked to finalise a report. Since the monsoon is delayed, it is decided to provide seeds and fertilizers immediately to the farmers.
In a humane approach, the state government decided to take care of all orphan children by bringing an orphan state policy. "They will be called children of the state. The government will take care of them as parents," state minister K. T. Rama Rao told reporters after the Cabinet meeting.
The policy will be approved in the next Cabinet meeting.
The Cabinet also approved the name of B. Satyanarayana from Erukala community (Scheduled Tribes) and D. Sravan from backward classes as MLC candidates under the Governor's quota.