Telangana
Protest over curbs on immersion of PoP idols in Hyderabad s Hussain Sagar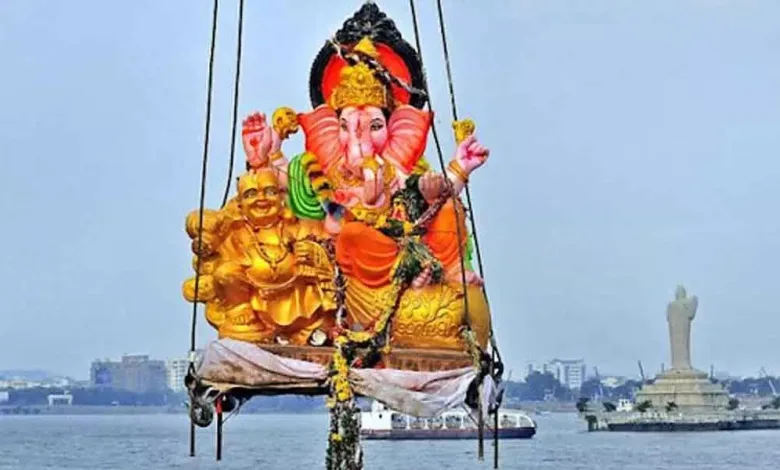 A section of organisers of Ganesh pandals in Hyderabad staged a protest when the police and municipal authorities stopped the immersion of Ganesh idols made of Plaster of Paris (PoP) in Hussain Sagar lake here in line with the orders of the Telangana High Court.
Late Monday night, the protesters sat on a dharna on Tank Bund road, leading to traffic jam on the busy road which connects twin cities of Hyderabad and Secunderabad.
Backed by some organisers, the protesters raised an objection to the action by the authorities and alleged that hurdles were being created in the immersion.
The organisers demanded the intervention of the state government, approach the High Court and ensure that the idols were immersed in Hussain Sagar as usual.
The sudden protest by the organisers sparked tension in the area.
Police detained the protesters and cleared the road for traffic.
The Bhagyanagar Ganesh Utsav Samiti had also tried to stage a similar protest last year to oppose what it calls the restrictions being imposed on immersion of Ganesh idols in Hussain Sagar.
The Samiti, which organises the annual festivities, demanded that the government allow immersion like in the past without any restrictions.
The nine-day festivities will culminate on September 28 with a massive immersion procession.
Thousands of idols from various parts of twin cities of Hyderabad and Secunderabad and. Outskirts are brought to Hussain Sagar for immersion.
As per the orders of both the High Court and the Supreme Court, the authorities have announced. That immersion of idols made of PoP will not be allowed in Hussain Sagar and other lakes.
Such idols will have to be immersed in baby/artificial ponds.
The authorities have built 50 ponds in addition to the 25 already existing for immersion of idols.
The Samiti, however, dismissed the artificial ponds created by authorities as against 'Hindu Dharma', as the idols should be customarily immersed in only natural water sources.
The High Court had directed the state government on Monday to ensure that no idols made. Of PoP are immersed in either Hussain Sagar or any other water bodies in Hyderabad during Ganesh idol immersion.
Hearing a writ petition, a bench of Chief Justice Alok Aradhe and Justice N. V. Shravan Kumar directed the Hyderabad Police Commissioner to ensure that the idols made of PoP. Were immersed only in the baby ponds created by the Greater Hyderabad Municipal Corporation (GHMC).
The state government has been asked to file the compliance report within three weeks.
The High Court in 2021 had passed an order in a contempt of. Court petition filed in 2014 relating to the matter.
The state government, which had approached the Supreme Court, assured that in. Future no Ganesh idols made of PoP would be immersed in Hussain Sagar.
In a move to promote eco-friendly festivities, the GHMC and. Hyderabad Metropolitan Development Authority (HMDA) are distributing 5 lakh idols made of clay free of cost.