Telangana
Sharmila urges Telangana oppn leaders to join her in demand for President's rule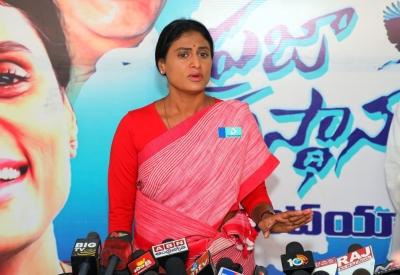 YSR Telangana Party president Y. S. Sharmila has written to the state presidents of all opposition parties, inviting them to join her in the demand for President's rule in Telangana.
Sharmila, in the letter, appealed to the leaders to join her in meeting President Droupadi Murmu in New Delhi and apprising the latter of the worsening law and order situation in the state, where opposition party cadres and leaders were repeatedly being "targeted" by the BRS party "hooligans", who are given a free hand in "unleashing murderous attacks on those who raised voices against Chief Minister KCR".
The letters were personally addressed to state Congress president Revanth Reddy, BJP's Bandi Sanjay, TDP's Kasani Gnaneshwar, AIMIM's Asaduddin Owaisi, TJS leader Kodandaram, BSP leader Praveen Kumar, CPI-M's Tammineni Veerabhadram, CPI's Kunamneni Sambasiva Rao, Shankar Goud, and MRPS leader Manda Krishna Madiga.
Sharmila, who is sister of Andhra Pradesh Chief Minister Y. S. Jagan Mohan Reddy, explained the urgent need for opposition parties in Telangana to join hands and set the situation right by ensuring President's rule is enforced, since the abuse of power and unabated atrocities of BRS government is taking its toll on entire state.
"Wherever KCR's corruption and his colleagues' misdeeds were questioned, there were attacks and use of police power. The state of Telangana that was built on the foundation of sacrifices lies at the crossroads where democracy, right to speech and constitutional privileges were being crushed," she wrote.
"We need to rise, join hands and wage this battle for the sake of future generations. This is a historic necessity and so I'm extending this invitation to join me in calling on the President," she added.
Sharmila was last month arrested in Mahabubabad and her padyatra was stopped by the police following allegations that she made derogatory comments against the local MLA of BRS.
The YSRTP leader was earlier arrested in Warangal and her campaign vehicle was damaged in the attack by BRS men.