Telangana
You received education in school, college built by Congress: Rahul tells KCR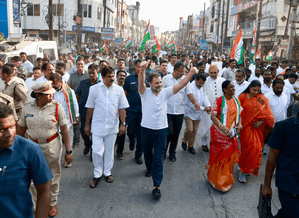 Congress leader Rahul Gandhi on Friday slammed Telangana Chief Minister K. Chandrasekhar Rao for asking what Congress has done since independence and remarked that the school and college he went to were also built by the Congress.
Rahul Gandhi, who participated in the party's election campaign in four Assembly constituencies, claimed that it was Congress which carved out Telangana state.
"The school and college you went to were built by the Congress party. The roads on which you move were laid by the Congress," he said while addressing a rally in Pinapaka constituency in Bhadradri Kothagudem district.
He said that it was Congress which developed Hyderabad as the IT capital of the world. "Hyderabad, which has been looted by the chief minister for the last 10 years, was made the IT capital of the world by the Congress," he said.
The Congress MP also claimed that it was Congress which started supplying free power to farmers. Disputing KCR's claim that farmers in Telangana were getting 24-hour power, he remarked that only KCR's house is getting 24-hour power. He promised that after coming to power, Congress will ensure 24-hour power for farmers.
Reiterating that his relationship with Telangana is not political, Rahul Gandhi said his family has had a relationship with Telangana for generations.
The Congress leader described the November 30 election as a fight between Dorala (feudal) Telangana and Prajala (people's) Telangana.
He alleged that Rs 100 crore were looted in Kaleshwaram Lift Irrigation Project. "I visited Kaleshwaram. It's collapsing," he said.
Rahul Gandhi said KCR cheated 20 lakh farmers in the name of Dharani. He promised that after Congress comes to power, farmers will get back the lands snatched from them through Dharani.
The Congress leader also addressed a rally in Narasmpet constituency, conducted padyatra and addressed a corner meeting in Warangal East constituency
He reiterated that BRS, BJP and MIM are working together. Exuding confidence that Congress will defeat them, he assured the people that Congress will realise their dream of Telangana.
"KCR established the rule of his family in Telangana but we want to bring the rule of backward classes, Dalits and tribals," he said adding that as part of this, reservation in local bodies will be increased to 42 per cent.
Rahul Gandhi listed out the six guarantees given by the Congress and other major promises made by the party in its manifesto.