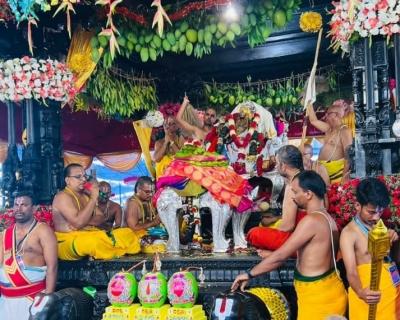 Thousands of devotees participated in the Ram Navami celebrations at Sri Sita Ramachandra Swamy temple in Bhadrachalam town of Telangana on Thursday.
Devotees from both Telangana and Andhra Pradesh took part in the celestial wedding (Sitarama Kalyanam) on the occasion of Ram Navami.
The celebrations were held in a grand way in the traditional manner with the famous temple being decked up for the celestial wedding of Lord Rama with his consort Sita.
A group of priests performed elaborate rituals to mark the celestial celebrations.
Priests performed rituals associated with Sitarama Kalyanam in the presence of Tridandi Chinna Jeeyar Swamy. Thousands of devotees watched the annual event at Mithali Stadium.
Endowments minister A. Indrakaran Reddy and his wife offered 'pattu vastralu' (silk clothes) on behalf of the state government.
Public representatives and district collectors of Khammam and Bhadradri Kothagudem districts and offered 'Mutyala talambralu'.
Earlier, some rituals were performed in the main temple and later, the deities were brought to the temple in a procession.
The endowments department had put up tents for devotees to protect them from the scorching sun.
The area around the stadium was divided into 26 sectors for the devotees to watch the celestial wedding.
One special officer was appointed for each sector to provide facilities to the devotees.
The endowments department had set up 70 counters to provide talambralu to devotees.
The temple authorities prepared two lakh packets of 'prasadam' for distribution among devotees.
More than 2,000 policemen were deployed as part of the security arrangements at the temple.
Ram Navami celebrations were also held at various temples in both the Telugu states.