News
Indian citizens send help to Turkey, Ambassador says 'Thank you, India'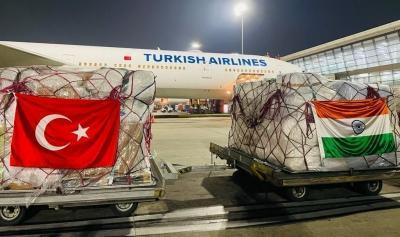 Turkish Ambassador to India Firat Sunel took to Twitter and thanked the Indian citizens for extending help and donating essential items to the people affected by the devastating earthquake that hit Turkey and Syria on February 6.
A Turkish Airlines flight took off from Delhi carrying material donated by the Indians on Monday.
The Ambassador tweeted: "Thank you, India! Each tent, each blanket or sleeping bag are of vital importance for the hundreds of thousands of earthquake survivors."
India has been running 'Operation Dost' in Turkey and Syria, ever since the countries were hit by the calamity.
Sunel had previously tweeted: "Another batch of emergency in-kind donations from the people of India is on the way to Turkey. @TurkishAirlines @TK_INDIA carries the aids on a daily basis to the earthquake hit region, free of charge."
The death toll in Turkey and Syria has reached around 34,000. The Indian government has sent search and rescue teams to dig through the rubble and rescue survivors.
Along with this, several medical teams have also been sent with medical supplies.