News
New districts but haphazard reorganisation: MLAs in a fix!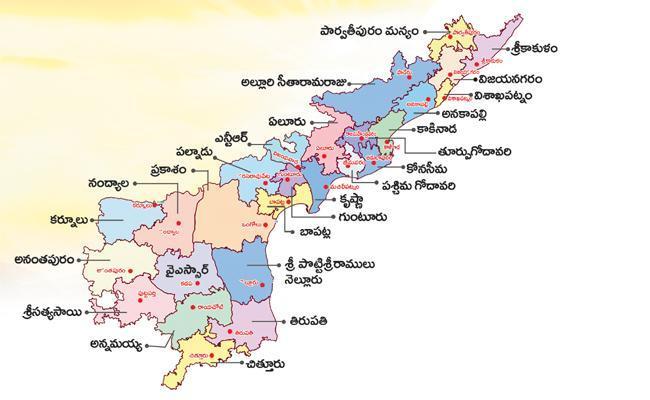 The YSRCP government's actions are always something that creates curiosity and news just for the heck of it. Neither will there be any action after an announcement or any development to follow it up. Well, the latest news that is making rounds is the district reorganisation plan of the YSRCP.
Apparently, the ruling party MLAs in Andhra are now finding themselves in a confused situation over formation of new districts. There are numerous demands in each assembly constituency when it comes to naming of district headquarters and merging or not merging some mandals with new districts. If legislators cannot achieve these demands, MLAs perceive that their image in public may deteriorate.
Legislators are thus on tenterhooks as Ugadi – Telugu New Year Day is approaching. They are expected to prevail on state government when it comes to meeting their constituents' demands.
In Tallarevu mandal of Mummidivaram assembly constituency, the proposal states that it shall be under the proposed Konaseema district. Kajuluru mandal of Ramachandrapuram constituency will also be in Konaseema district. But, people of Tallarevu and Kajuluru mandals have demanded that the government merge their mandals with Kakinada district.
Mummidivaram MLA Ponnada Satish Kumar has also supported merger of Tallarevu mandal with new Kakinada district, instead of Amalapuram (Konaseema district). If Tallarevu mandal is merged with Kakinada, rich mangroves and Hope Island will belong to Kakinada district.
Already former minister and YSRC leader Kothapalli Subba Rayudu slapped himself with his chappal, claiming Narsapuram MLA M. Prasada Raju is an inefficient MLA, as he could not convince the CM to let Narasapuram remain as district headquarters instead of Bhimavaram.
Additionally, People of Gokavaram in Jaggampeta constituency are unhappy with the merger of their area with the new Rajamahendravaram district, instead of Kakinada district, as it is just at a distance of 25 kilometres from Rajamahendravaram but 75 km from Kakinada.
Ruling party MLA of Jaggampeta Jyothula Chantibabu and former MLA Jyothula Nehru have also demanded that the government merge Gokavaram mandal into Rajamahendravaram. Meanwhile, People of Rampachodavaram and Chinturu divisions are fighting for a separate district. Residents of Alamuru mandal in Mandapeta constituency want their merger with Rajamahendravaram district.
Going by this trend of haphazard decision-making without thinking of the geographic proximity, it looks like the YSRCP will have to face people's heat for making such a hasty decision, without taking public opinion into account. How this reorganisation of districts will happen in AP is something we will need for wait and watch for! But, on the whole, it looks like this move could bring more headache to the government as it needs to be reconsidered, based on people's ideas and opinions!