Politics
Is Mahanadu success indicative of anti-incumbency wave against Jagan?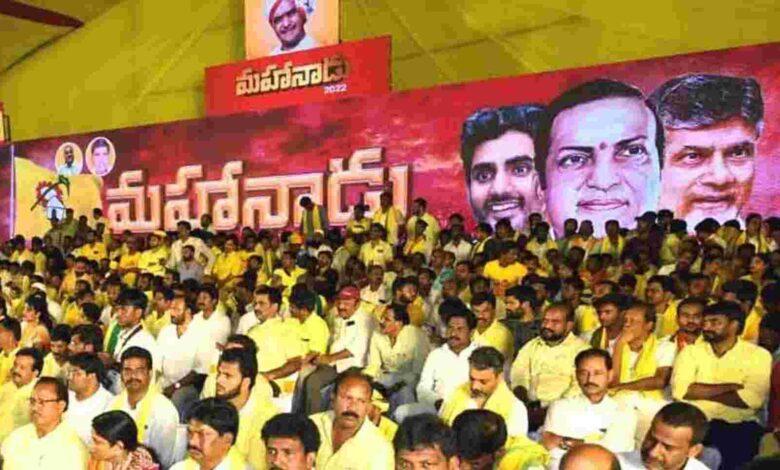 It is a known fact that Andhra Pradesh is going through some of the worst periods in terms of growth, development and everything else. Ask any common person on the street and you will hear an unhappy answer or a rant against the YSR Congress Government.
Whether you take cleanliness maintenance across towns and cities in the state or just garbage pick-ups from individual houses, nothing is moving except the Chief Minister's money, say citizens.
It is a known fact that lands have been encroached upon (through extortion), law and order has gone for a toss, no investments coming to the state and the state's finances have dried up with a slew of welfare schemes. In such a dire situation, there has been discontentment brewing across the state and this was clear with the response at Mahanadu which saw over 5 lakh people attending it.
This is the first "Mahanadu" that the TDP organised as a public function after a gap of three years. While in 2019, the conclave was not held because of the TDP's electoral rout, the party only did its brief online sessions in 2020 and 2021 due to the COVID pandemic.
TDP President N. Chandrababu Naidu said CM Y.S. Jaganmohan Reddy was signing "fake MoUs" alleging that signed the same agreements in Davos that were earlier signed in AP by Naidu. "How can Jagan claim welfare credit when he removed Anna Canteens, Videsi Vidya, Pelli Kanuka, Sankranthi Kanuka, Ramzan Thofa, Christmas Kanuka and Chandranna Beema?" he questioned the YSRCP government.
Giving the call "Quit Jagan – Save Andhra Pradesh", he exhorted the people to vote out the "scandalous and ruinous" YSRCP regime, stressing that "all sections should work in unison and save the state from further destruction".
There is an opinion that Jagan is "inefficient leader presiding over a rule by maniacs, liars and hardcore corrupt criminals." In just three years, the YSRCP government has pushed the state into a Rs.8 lakh-crore debt trap without any development and roads. From huge potholes to everyday civic issues, people's non-cooperation in the state has begun and it was clear through Mahanadu.
Not only TDP party workers but also everybody in the state is feeling stifled and frustrated, say netizens. That should spell doom for Jagan, they say. So, it looks like the Mahanadu's thumping response is a small but significant indication for a change that's coming in the state. But, are the people of AP ready to accept it?