Politics
Jagan launches personal attack on Pawan Kalyan as volunteer row takes bitter turn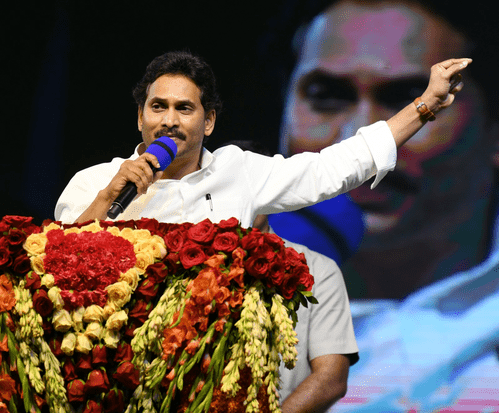 The political row over the volunteer system in Andhra Pradesh turned personal with Chief Minister Y.S. Jagan Mohan Reddy on Friday launching a bitter attack on actor-politician Pawan Kalyan.
The Chief Minister on Friday reacted strongly to Jana Sena Party (JSP) leader's recent comments that volunteers appointed by the state government are behind human trafficking.
Calling Pawan Kalyan 'adopted son' of Telugu Desam Party (TDP) chief N. Chandrababu Naidu, Jagan said that he lures women, and after marrying a woman and living with her for four years, he then divorces her.
"He marries another woman and then divorces. Again he marries another woman and leaves her. Not only that, while being married to a woman, he develops illicit relations with another woman. Such a person is talking about the character of our volunteers," Jagan said while addressing a public meeting at Venkatagiri in Tirupati district.
The state government had on Thursday accorded permission to prosecute Pawan Kalyan for his defamatory statement against volunteers and the government.
The state government issued a Government Order (GO), directing the public prosecutor to file a complaint in a competent court of law against the JSP leader.
The GO cites Pawan Kalyan's speech of July 9 at Eluru in which he stated that volunteers are the sole reason for the cause of missing 29,000 women according to NCRB data in Andhra Pradesh.
The chief minister, in his speech on Friday, also launched personal attacks on Chandrababu Naidu, his brother-in-law and actor Balakrishna and Naidu's son Lokesh.
He remarked that people know their character.
"One of them dances with women and is also seen with women in the swimming pool. Another kisses women or at least hugs them. The other goes to TV shows and says 'Bava' (brother-in-law) you did in films, I have done in real life."
Stating that the volunteer system was set up with a service motto, Jagan said people with questionable character have been passing objectionable comments.
"Only culture-less people would criticise the volunteers who have been extending selfless service to the people with responsibility," he said.
The chief minister dubbed Pawan Kalyan as a political volunteer and package star working for TDP for the past 10 years.
"The 2,60,000 volunteers, with 60 per cent of them being my sisters, are known to locals in the neighborhood. They work like family members extending services transparently irrespective of caste, creed and political affiliations."
Praising volunteers for their hard work in playing an anchor role in the implementation of. Welfare schemes, the chief minister went hammer and tongs against. Pawan saying he has been indulging in character assassination of volunteers. 
Charging Pawan Kalyan with acting at the behest of Chandrababu, he said their characters are well known to people. 

"They know only about cheating and backstabbing and they don't have any history of doing good. Things to the people," said the chief minister, adding that the actor is working as a B team to TDP. 
He called upon the people to choose between the government that made the entire country look. At Andhra Pradesh with the transparent implementation of welfare schemes. For providing social justice to weaker sections following BR Ambedkar's philosophy and the political manipulators. Who want political power for looting public money with the help of friendly media. 

"Jana Sena itself is a drama group. Pawan Kalyan has donned a role in the political drama for which Chandrababu Naidu is the producer and his friendly. Media has given the script," he said, adding that the actor's statements on alliances are only part of the drama. 
Reiterating that he has no friendly media to carry on Goebbels theory like Chandrababu, the Chief Minister. Urged people to stand by the YSRCP and bring it victory in the next elections if they feel they are benefited. By the slew of welfare schemes implemented by the government. 
"In future, these people will indulge in more mischievous campaigns against YSRCP. MLAs and Ministers and spread more falsehood like the one being carried out against the volunteers. I appeal to you not to be carried away by such vicious campaigns," he urged the people.