Politics
No conspiracy in 2018 knife attack on Jagan, NIA tells court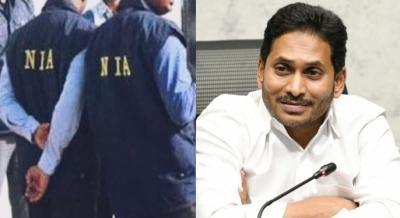 The National Investigation Agency (NIA) told a special court here on Thursday that there was no conspiracy behind the knife attack on Andhra Pradesh Chief Minister Y.S. Jagan Mohan Reddy at Visakhapatnam Airport four years ago.
The agency stated this in a counter affidavit to a petition filed by Jagan Mohan Reddy , seeking further investigation into the case. It urged the NIA court to dismiss the petition.
The agency told the court that Harshvardhan, the owner of the airport restaurant, was not affiliated to any political party.
J. Srinivas Rao, a worker at the restaurant, had attacked Jagan Mohan Reddy with 'kodi katti' or a small knife used in cockfight, at Visakhapatnam Airport on October 25, 2018.
Jagan, then leader of the opposition, had suffered an injury to his arm.
The court was also told that the accused Srinivas was not linked to the Telugu Desam Party (TDP) or any other party.
The agency argued that since the trial had started in the court, there was no need for another investigation into the case.
The counsel for Jagan Mohan Reddy sought time to present his arguments on the NIA counter.
The court adjourned the hearing to April 17.
Srinivas' counsel Saleem also filed counter to Jagan Mohan Reddy's petition. He argued that Jagan's petition lacks merits.
Earlier, the NIA court had directed Jagan Mohan Reddy to appear and record his statement on April 10.
He, however, sought exemption from personal appearance on the ground that he has to discharge his duties as the chief minister and also on the ground that his appearance in the court may lead to traffic jam around the court premises and thus, inconvenience the people.
The chief minister requested the court to appoint an advocate commissioner to record his statement.
After the attack, the then TDP government had handed over the case to a Special Investigation Team (SIT) of the state police but Jagan Mohan Reddy had refused to record his statement saying he had no trust in agencies controlled by the state government.
Suspecting a conspiracy by the TDP, the YSR Congress Party (YSRCP) had moved the state high court, seeking a probe by a central agency into the case.
Based on the court direction, the Centre handed over the case to the NIA on December 31, 2018 and the agency registered the case on January 1, 2019.