Sports
1st Test: Labuschagne, Smith to the rescue as Australia reach 76/2 at lunch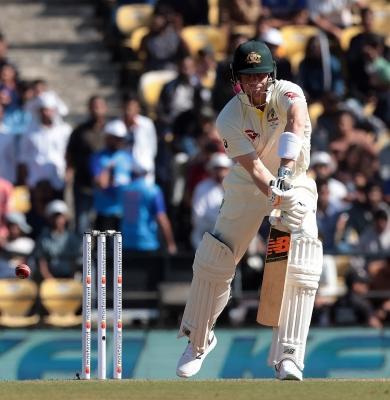 Marnus Labuschagne and Steve Smith shared a half-century partnership as Australia survived some torrid time to take lunch at 76/2 on the opening day of the first Test of the four-match Border-Gavaskar Trophy series at the Vidarbha Cricket Association (VCA) Stadium here on Thursday.
At lunch, Labuschagne was batting on 47 while Smith was on 19 as Australia survived some anxious moments in two hours of play in the morning. Labuschagne faced 110 deliveries in the first session while Smith negotiated 74 deliveries for his 19.
After Pat Cummins won the toss and elected to bat first, pacers Mohammed Shami and Mohammed Siraj claimed a wicket apiece in the engrossing session in which the spinners bowled 22 off the 32 overs sent down in the morning session of a match expected to be dominated by the slow stuff but failed to get any wicket.
But there was enough indication that the spinners will enjoy their time on this pitch as Axar Patel and Jadeja made a couple of deliveries jump and skid and had the batters in all sorts of trouble.
Smith and Labuschagne, Australia's premier batters in 2022, were cautious in their approach and completed the half-century of their partnership off 128 balls and they carried their hopes after prolific opener Usman Khawaja and David Warner were out for one run each.
After Mohammad Shami sent down an uneventful first over, Siraj stuck off the first ball he delivered from the North End, trapping Usman Khawaja leg before wicket with one that stayed low and nearly took his toe off.
It was an outswinger pitched on a length and that moved in for the left-hander and rapped him plumb in front. Khawaja went for one run having faced 3 deliveries. Australia 2/1 in the second over.
Shami struck in the next over as he sent David Warner's off-stump cartwheeling with an inswinger that narrowly missed the edge and ricochets off the pad into the off-stump. Warner too made 1 run but off five deliveries.
Smith and Labuschagne buckled down for a partnership and took Australia past the 50-run mark.
Both were very cautious and although Labuschagne struck a few boundaries, Australia could have been three wickets down if Virat Kohli had not dropped a sharp chance as a lone slip by Smith off Axar Patel. Rohit gave Shami and Siraj three overs each in their first spell and brought in Ravindra Jadeja as the first change only to change the bowling end for Siraj.
The pacer from Hyderabad bowled two more overs from the Pavilion End but could not get more success,
Rohit introduced Axar Patel ahead of Ravichandran Ashwin from the NBorth End and the left-arm spinner troubled the batsmen. One of his deliveries just shot up from a rough patch and flew over debutant wicketkeeper KS Bharat, alarming the batsmen in the middle and all those inside the pavilion.
But the strip looked good for batting for those who applied themselves. Labuschange did that. He was beaten twice by Siraj but also struck the pacer for two fours in the fourth over, one off a half-volley and another, a deliberate edge past the keeper along the ground. Siraj beat him all ends up off the last ball of the over, with an outswinger from wide off the crease.
He struck five more boundaries in the first session, the pick of them being a drive off Shami wide off mid-on. He was nearly out when Axar Patel's delivery skids off the pitches but Labuschagne just manages to keep it out.
Smith on the other hand did not look as assured as he got a life and was also beaten a few times. He survived again when a delivery from Jadeja nearly straightened and nearly took the off-stump. He struck a couple of fours, skipping down the pitch to loft Jadeja over midwicket being his best shot of the morning session as Australia survived to take lunch with only two batsmen out.
Brief scores:
(At Lunch) Australia 76/2 in 32 overs (Marnus Labuschagne batting 47, Steve Smith batting 19; Mohd Shami 1-12, Mohammed Siraj 1-13) v India.