Sports
Asian Champions Trophy: Harmanpreet scores his 150th goal, India thrash Malaysia 5-0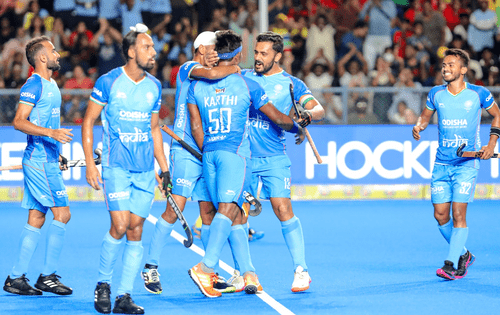 Having survived some anxious moments despite dominating Harmanpreet the match in the draw against Japan, top-ranked India came up with a superb performance to blank Malaysia 5-0 in a key round-robin stage match in the Asian Champions Trophy at the Mayor Radhakrishnan Stadium here on Sunday.
A determined Indian men's hockey team executed its game plan well to climb up the points table. Playing in front of a packed home crowd, the hosts lived up to the billing, producing an exciting brand of hockey from hooter to hooter.

It was a memorable outing for Harmanpreet Singh who achieved a personal milestone of scoring their 150th international goal with a 42nd-minute PC while Karthi Selvam (15′), Hardik Singh (32′), Gurjant Singh (53′) and Jugraj Singh (54′) contributed in India's win.

Coming into this game with two wins in a row, a 3-1 win against Pakistan. And a 5-1 victory over China, Malaysia looked to remain ahead of India in the points table. But India played with aggression and the right intent to score at regular intervals.

Within the first five minutes of the match, experienced forward Akashdeep Singh built. A strong attack slotting the ball to Vivek Sagar Prasad who smartly tackled a couple. Of Malaysian defenders to assist Sukhjeet. Though the striker took a strong shot on goal, his flick missed the target.

Just minutes before the first quarter whistle, India's first goal came through local hero Karthi Selvam. It was Skipper Harmanpreet Singh who made a brilliant long, grounded pass. To Karthi setting him up for a fine field goal from the top of the circle.

After a goalless second quarter, India took a 2-0 lead in the 32nd minute – thanks to a Hardik Singh after his Skipper fetched the team's third PC. Though Harmanpreet's flick was saved by Malaysia's goalie, a rebound was picked up well by Hardik to deflect it into the post.

The team extended their lead to 3-0 when Harmanpreet scored in the 42nd minute.

With a comfortable 3-0 lead, India looked to finish well. Working on a disciplined attack, India upped the pressure on Malaysia with a flurry of goals. Gurjant Singh (53′) and Jugraj Singh (54′) scored back-to-back goals to put India ahead by 5-0. The Indian defenders did well to keep India in the lead till the final hooter.