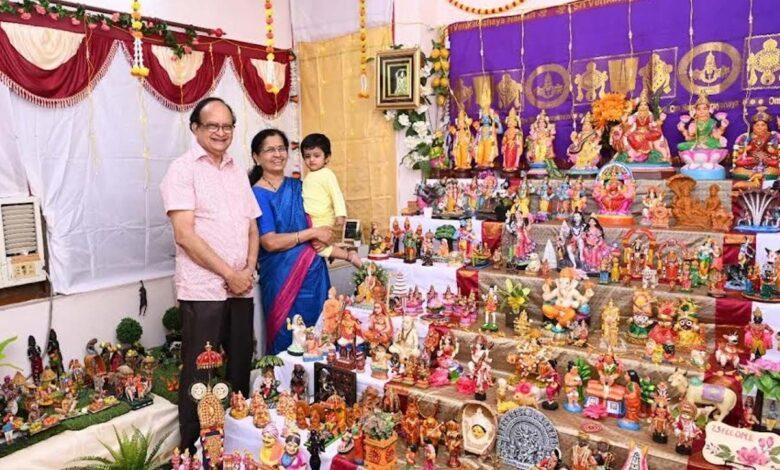 Dasara or Vijayadasami in South India is synonymous with 'Bommala Koluvu,' the arrangement of idols and dolls in the form of step-like horizontal arrays. It's not just about the deities from the Hindu pantheon, but the 'Bommala Koluvu' thematically represents social events such as marriage, village shandy, public gathering etc.
As 'sidelights,' there are the children's park, zoo etc., which are set beside the mainstream array. From tying colourful festoons to serial lamps to illuminate the hall, there are many ways to add to the grandeur.
This year, 'Bommala Koluvu', was themed around 'Ek Bharat Shresht Bharat', depicting India's rich diversity and heritage here this year. The two-day event conducted by Bharatiya Vidya Bhavan's Sri Venkateswara Vidyalaya that came to a close on Tuesday exhibited the traditional practices of Andhra Pradesh and Punjab.
Dasara, which marks the victory of good over evil, is generally depicted in the south as Goddess Durga killing the demon Mahishasura and the 'Bommala Koluvu' usually depicts the story through the display of idols. The same is observed above the Vindhyas as Rama's victory over Ravana, and as such, the effigies of Ravana, his son Meghnadh and brother Kumbhakarna are burnt in public.
Carrying these traditions forward, the event highlighted the synchronising features as well as the subtle differences that distinguished the traditional practices in the two States, such as the Ugadi and the Vaisakhi, the Shiva Lingam and the Gurdwara, Tirumala temple and the Golden Temple at Amritsar, Andhra Muggulu and Punjabi Rangoli, Andhra 'Pindivantalu' and Punjabi Thali, Andhra Maggam saris and Punjabi 'Gahine' ethnic jewellery.
If the children in the rural pockets of Andhra Pradesh played 'Vamana guntalu', 'Dayalu' and 'Thokkudubilla', their Punjabi counterparts flew kites, flung tops and played glass marbles. As both the States are known for their agricultural opulence, their lush green and fertile countryside were depicted as the 'regional granary' through exhibits painstakingly made by the students.
However, the interest and fervour to set up the arrangement has seen a decline of late due to a variety of reasons like emergence of nuclear families, employed parents, hostel-dwelling children and the general apathy towards fine arts.
This changed scenario has cast a shadow on the creativity and social relationship skills of the children, who unfortunately derive entertainment only from the virtual world. "They wield Wi-Fi connected' devices, but seldom stay connected to society", remarks counselling psychologist.
The art of arranging idols teaches them home management, sowing oil seeds for the children's park engages them with nature, while they learn socialising from the visiting guests. Looks like we need to revive this art and save it from fading out.