Featured News
Jagan as 'permament president' for YSRCP defeats fundamentals of Democratic Voting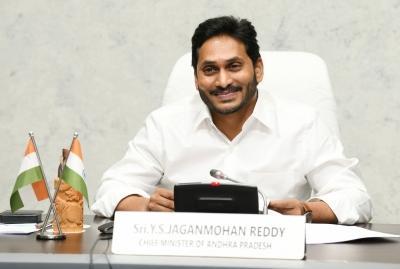 In the recently concluded plenary meeting of the YSR Congress Party, there were words such as "Jagan Salute " and "all hail, Jagan " which make you feel like you are in some sort of a military or facist rule. Well, in Andhra Pradesh, the Chief Minister, Y.S. Jaganmohan Reddy, has been sailing in a similar feeling for quite sometime now!
What came as a surprise is that the plenary took a decision to make Jagan "permanent president" of the YSRCP. What it also means is that no one, apart from Jagan, can, will or shall be the party head, ever! This move has raised a lot of eyebrows in political circles. While this move within a political party has never been seen before, what it also indicates is the lack of freedom or space for discussion or electing their leader democratically.
This kind of decision has also been sent to the Election Commission for approval by the party high command. Surprisingly, many YSRCP leaders themselves are shocked at this move by Jagan. They've been whispering about a few things: "How can one remain a permanent president? Why was there a need to suddenly do that, without even finishing one term as the CM? Is he scared of someone taking his position? Is there a chance for an internal coup within YSRCP?"
Interestingly, the resignation of Y.S. Vijayamma as honorary president of the YSRCP also comes at the same time. Analysts say that Jagan should've convinced and retained his mother for sentimental reasons (which would've brought him women votes). But, this exit of Vijayamma along with Jagan being declared a "permanent president of YSRCP" is indicative of the leader's narcissistic tendencies becoming public. Having total control could shatter or break the party completely, without allowing it the space to breathe or grow.
Additionally, given how the YSRCP government has been facing a severe backlash from the people of Andhra Pradesh, despite all the freebies and dole, it is clear that these moves of Jagan could give him a sense of immediate and egoistic relief but eventually it could lead to his downfall.
By applying to the Election Commission to make him the "permanent president" of YSRCP, Jagan has shown how the state could see a total autocratic rule if he comes to power in the next election and how the fundamentals of free and fair voting has been defeated with this move.
What the people of the state have to decide is, will they be happy under such a controlled regime or a leader with megalomaniac tendencies who doesn't abide by the rule of law but creates his own rules as and when he wishes!