Special Stories
3 dead in Odisha & Andhra Pradesh as Cyclone Gulab batters coast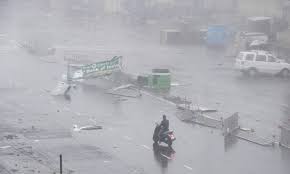 Three people were killed in Odisha and Andhra Pradesh as Cyclone Gulab made landfall in the coastal region of the two states on Sunday evening.
One person was swept away in Odisha's Ganjam district and two fishermen from Srikakulam district of Andhra Pradesh lost their lives while one another went missing as the cyclonic storm made landfall on Sunday evening.
Special relief commissioner of Odisha Pradeep Jena said, "After making landfall at 8.30 pm, the cyclone was moving towards Koraput and Malkangiri districts where it is expected to cause potential damage due to wind and rain. We are expecting widespread rains in Malkangiri, Koraput, Ganjam, Gajapati and Rayagada districts till tomorrow afternoon. There was no danger to any other coastal districts".
In Ganjam district, a man was swept away in Gosaninuagaon block while three members of a family in Khairaput block of Malkangiri district escaped narrowly from coming under a tree that fell on their house, the officer said.
Keeping the path of cyclone Gulab in mind, 42 units of the Odisha Disaster Rapid Action Force, 29 National Disaster Response Force and 103 fire brigades were pre-positioned at different places.
About 700 people, including many pregnant women, have been shifted in Gajapati district. Around 8,000 people would be evacuated to safer places. There is a possibility of landslips taking place in Gajapati district if heavy rain occurs under the influence of Gulab.
Preparation for relief underway
Meanwhile, Andhra Pradesh Commissioner (Disaster Management) K. Kanna Babu directed officials of various departments to be prepared for any emergency in view of cyclone Gulab, likely to make a landfall between Kalingapatnam and Gopalpur, around midnight, and cause extensive damage to surrounding areas.
The Commissioner held a review meeting with the District Collector, the Joint Collector, Greater Visakhapatnam Municipal Corporation (GVMC) Commissioner and district-level officials on Sunday.
The sea condition will be very rough to high on Sunday and Monday and fishermen have been advised not to venture into the sea. Tidal waves of 0.5 m height above the astronomical tide are likely to inundate the low-lying areas of Srikakulam, Vizianagaram and Ganjam districts during the cyclone's landfall.
The cyclone is being monitored by the Doppler weather radar in Visakhapatnam as well as the coastal meteorological observatories. Additionally, 300 water tankers had been kept ready for the supply of drinking water, and earthmoving equipment was ready to clear road blockages, if needed.