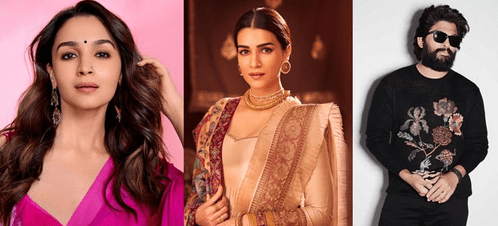 Tollywood star Allu Arjun bagged the Best Actor honour for 'Pushpa: The Rise'. Bollywood actresses Alia Bhatt and Kriti Sanon have won the Best Actress Award at the 69th National Film Awards for their performances in 'Gangubai Kathiawadi' and 'Mimi' respectively.
With 280 films across 28 languages were in competition for various awards, the event was held by the jury at the National Media Centre here.  
Released in 2022, 'Gangubai Kathiawadi' is directed by Sanjay Leela Bhansali. The film also stars Shantanu Maheshwari, Vijay Raaz, Jim Sarbh and Ajay Devgn. The film is about Gangubai Kothewali, whose life was documented in the book Mafia Queens of Mumbai written by S. Hussain Zaidi.
The film depicts the rise of a simple girl from Kathiawad who had no choice but to embrace the ways of destiny and swing it in her favour.
Allu Arjun's 'Pushpa: The Rise – Part 01' is a Telugu-language action drama film directed by Sukumar. It stars Allu Arjun alongside Fahadh Faasil and Rashmika Mandanna. The first installment in the Pushpa film series, the film depicts the rise of a coolie Pushpa Raj in the smuggling syndicate of red sandalwood, a rare wood that grows only in the Seshachalam Hills of Chittoor in Andhra Pradesh state.
The comedy-drama 'Mimi' is directed by Laxman Utekar.
The film is a remake of the 2011 Marathi film Mala Aai Vhhaychy!, it stars Kriti, who opts to be a surrogate mother for a foreign couple. Pankaj Tripathi, Sai Tamhankar, Manoj Pahwa and Supriya Pathak.
Here's the complete list of winners across non-feature and feature categories:
Feature Category:
Best Feature Film: Rocketry
Best Director: Nikhil Mahajan, Godavari
Best Popular Film Providing Wholesome Entertainment: RRR
Nargis Dutt Award for Best Feature Film on National Integration: The Kashmir Files
Best Actor: Allu Arjun, Pushpa
Best Actress: Alia Bhatt, Gangubai Kathiawadi and Kriti Sanon, Mimi
Best Supporting Actor: Pankaj Tripathi, Mimi
Best Supporting Actress: Pallavi Joshi, The Kashmir Files
Best Child Artist: Bhavin Rabari, Chhello Show
Best Screenplay (Original): Shahi Kabir, Nayattu
Best Screenplay (Adapted): Sanjay Leela Bhansali & Utkarshini Vashishtha, Gangubai Kathiawadi
Best Dialogue Writer: Utkarshini Vashishtha & Prakash Kapadia, Gangubai Kathiawadi
Best Music Director (Songs): Devi Sri Prasad, Pushpa
Best Music Direction (Background Music): MM Keeravaani, RRR
Best Male Playback Singer: Kaala Bhairava, RRR
Best Female Playback Singer: Shreya Ghoshal, Iravin Nizhal
Best Lyrics: Chandrabose, Konda Polam's Dham Dham Dham
Best Hindi Film: Sardar Udham
Best Kannada Film: 777 Charlie
Best Malayalam Film: Home
Best Gujarati Film: Chhello Show
Best Tamil Film: Kadaisi Vivasayi
Best Telugu Film: Uppena
Best Maithili Film: Samanantar
Best Mishing Film: Boomba Ride
Best Marathi Film: Ekda Kaay Zala
Best Bengali Film: Kalkokkho
Best Assamese Film: Anur
Best Meiteilon Film: Eikhoigi Yum
Best Odiya Film: Pratikshya
Indira Gandhi Award for Best Debut Film of a Director: Meppadiyan, Vishnu Mohan
Best Film on Social Issues: Anunaad – The Resonance
Best Film on Environment Conservation/Preservation: Aavasavyuham
Best Children's Film: Gandhi and Co
Best Audiography (Location Sound Recordist): Arun Asok & Sonu K P, Chavittu
Best Audiography (Sound Designer): Aneesh Basu, Jhilli
Best Audiography (Re-recordist of the final mixed track): Sinoy Joseph, Sardar Udham
Best Choreography: Prem Rakshith, RRR
Best Cinematography: Avik Mukhopadhayay, Sardar Udham
Best Costume Designer: Veera Kapur Ee, Sardar Udham
Best Special Effects: Srinivas Mohan, RRR
Best Production Design: Dmitrii Malich and Mansi Dhruv Mehta, Sardar Udham
Best Editing: Sanjay Leela Bhansali, Gangubai Kathiawadi
Best Make-up: Preetisheel Singh, Gangubai Kathiawadi
Best Stunt Choreography: King Soloman, RRR
Special Jury Award: Shershaah, Vishnuvardhan
Non-Feature Category:
Best Non-feature film: Ek Tha Gaon
Best Direction (Non-feature film): Bakul Matiyani, Smile Please
Best Debut Non-Feature Film of a Director: Paanchika, Ankit Kothari
Bes Anthropological Film: Fire on Edge
Best Biographical Film: 1. Rukhu Matir Dukhu Majhi, 2. Beyond Blast
Best Arts Films: T.N. Krishnan Bow Strings to Divine
Best Science & Technology Films: Ethos of Darkness
Best Promotional Film: Endangered Heritage 'Warli Art'
Best Environment Film (Non-feature film): Munnam Valavu
Best Film on Social Issues (Non-feature film): 1. Mithu Di, 2. Three Two One
Best Investigative Film: Looking For Challan
Best Exploration Film: Ayushman
Best Educational Film: Sirpigalin Sirpangal
Best Short Fiction Film: Dal Bhat
Best Animation Film: Kandittundu
Best Film on Family Values: Chand Saanse
Best Cinematography (Non-feature film): Bittu Rawat, Pataal
Best Audiography (Re-recordist of the final mixed track) (Non-feature film): Unni krishnan, Ek Tha Gaon
Best Production Sound Recordist (Location/Sync Sound) (Non-feature film): Suruchi Sharma, Meen Raag
Best Editing (Non-feature film): Abhro Banerjee, If Memory Serves Me Right
Best Music Direction (Non-feature film): Ishaan Divecha, Succelent
Best Narration/Voice Over (Non-feature film): Kulada Kumar Bhattacharjee, Hathibondhu
Special Mention (Non-feature film): 1. Aniruddha Jatkar, Baale Bangara, 2. Srikanth Deva, Karuvarai, 3. Sweta Kumar Das, The Healing Touch, 4. Ram Kamal Mukherjee, Ek Duaa
Special Jury Award (Non-feature film): Shekhar Bapu Rankhambe, Rekha
Additionally, three more awards were announced by the jury:
Best Book on Cinema: Music by Laxmikant Pyarelal: The Incredibly Melodious Journey by Rajiv Vijayakar
Best Film Critic: Purushothama Charyulu
Best Film Critic (Special Mention): Subramanya Bandoor