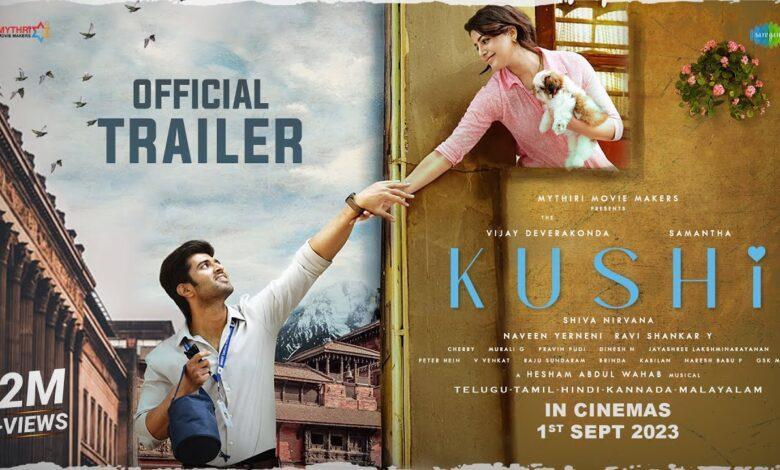 The trailer of the upcoming multilingual film 'Kushi', which was released in five languages, begins with the picturesque locations of Kashmir as it introduces its two lead characters, essayed by Telugu stars Vijay Deverakonda and Samantha Ruth Prabhu, coming from different worlds.
It shows Vijay's character falling hard for Samantha's character as he tries to woo and pursue her for marriage.
The trailer, over 2 minutes in length, changes gear as it travels from Kashmir in the north. To the South of India. All seems to be going fine until their families meet and Kushi's father says that this association will only lead to fights which the couple would find increasingly difficult to cope up with.
A lot of drama ensues as their families get involved and try to make sense of things until the couple decides to take charge.
Despite fair warnings, the lead pair goes onto tie the nuptial knot. But, things start changing as the sands of time get deposited over the lead couple's married life. The lead couple starts having disagreements and the experience of friction. In their relationship over minor issues like closing the door on the face, it eventually leads to affecting their professional lives. Their romance loses the spark as their married life progresses.
The trailer goes on to show Vijay's character promising to become the best husband. In the world as the story progresses forward.
The watershed moment in the trailer is when Vijay's character assures that he is a feminist. At heart despite the bad reputation that society has given to him. The dialogue is a clever satire on what happened. To Vijay after his 'Arjun Reddy' was tagged "misogynist" by certain critics.
The trailer of the film also has action, romance, comedy peppered generously throughout its course.
Produced by Mythri Movies, 'Kushi' has been directed and is set to debut in cinemas on September 1