News
Telangana, Andhra Pradesh CMs pay tributes to Jyotirao Phule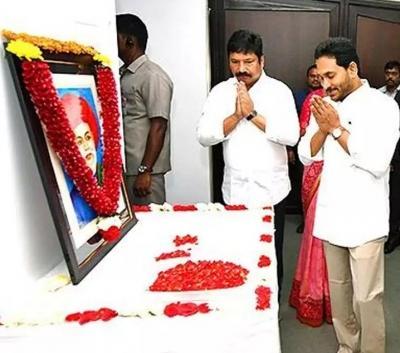 Telangana Chief Minister K. Chandrasekhar Rao and his Andhra Pradesh counterpart Y.S. Jagan Mohan Reddy on Tuesday paid tributes to social scientist and philosopher Mahatma Jyotirao Govinda Rao Phule on his 197th birth anniversary.
Chandrasekhar Rao said that aspirations and actions of Jyotirao Phule, who dedicated his entire life to the fight against hegemonic values and for equality in all fields, are still an inspiration to the present generations.
KCR said that Jyotiba Phule had taken up activities almost 200 years ago with an aim to uplift Dalits, tribal and backward communities against caste and gender discrimination.
The CM said that the path of social equality followed by Jyotiba Phule paved the way to bring a radical change in the traditional social values and systems in the Indian society of that time.
He noted that Phule's action plan encouraged women and Dalits and Backward communities to fight for qualitative change.
The CM recalled that Dr Babasaheb Ambedkar himself declared Mahatma Phule as his 'guru'. He stated that the state government is implementing development and welfare programmes, according it priority to fulfill the aspirations of great people like Jyotiba Phule.
With his inspiration, the state government is working towards the development of the weaker sections by following the policy of 'Development is an antidote to discrimination'. The Chief Minister said that with the development and welfare schemes implemented by the state government, Dalits, tribals, weaker sections and women in Telangana achieved good results in socio- political, economic and cultural aspects and progressed towards social equality.
The CM said that most of the beneficiaries of the programmes implemented by the state government are Backward communities. Special Development Fund for Scheduled Castes and Tribes, Ambedkar Overseas Scholarship, Skill Training for SCs, Free Electricity up to 101 Units for SCs, Special Development Fund for Scheduled Tribes, TS Pride for Entrepreneurs, Free Electricity up to 101 Units for STs, Self Respect buildings for Tribals and Upgradation of Tandas as Gram Panchayats are implemented exclusively for development of scheduled castes and scheduled tribes.
Andhra Pradesh Chief Minister Jagan Mohan Reddy said that Phule was a great man who dedicated his life for the downtrodden. He called him a pioneer of social justice and women empowerment movements in modern India.
He said Phule believed that development and justice is possible with education. "His path is our journey," said Jagan Mohan Reddy.
Andhra Pradesh Governor S. Abdul Nazeer also remembered Phule on his birth anniversary.
The Governor noted that Phule was a champion of equal rights for all people and is remembered for his socio-cultural reforms and for his contribution to women's education and empowerment.