Politics
How RRR can be an asset to TDP if leveraged rightly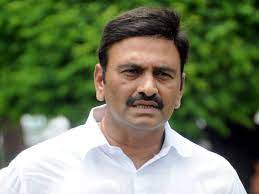 YSR Congress MP Raghurama Raju, famously known as, RRR is known for being the rebel MP from the party who has not just exposed Jagan-government's failures but also continued his assault of the government's faulty decisions. As someone who is seen as a liability for the YSRCP, there is good news for the party now.
Apparently, the grapevine has it that RRR will soon resign from the party's Loksabha seat. If one has to recall, his onslaught against the Jagan government has been so blatant and direct that he even took his personal fight against the YSRCP to the Prime Minister. Following this ruckus, YSRCP's Parliamentary Committee had written to Lok Sabha Speaker to disqualify RRR for anti-party activities.
On the other hand, many YSRCP followers on social media are trolling Raghurama Raju and demanding him to resign his MP seat and go for a by-election. Though this seems like a planned propaganda to make him forcibly resign, he's been a strong nut to crack for the YSRCP.
However, this announcement comes as a surprise stating that: "If they don't want me to continue in the party, I shall resign myself." Expressing his opinion on the by-election, RRR expressed confidence in winning it. "I will contest the by-election as an independent with my photo and will definitely retain my Parliament segment. But my resignation is only to get rid of YSRCP's dirt to the state and at the best interest of the people of AP and also for the capital Amaravati," he added.
Now, if RRR resigns, the Telugu Desam Party should make efforts to attract him into the party as he is not just a lively speaker but also has a good image among mediapersons. Additionally, RRR is someone who knows YSRCP from the inside. If leveraged and strategized rightly, the TDP can use RRR as a great asset against the YSRCP in exposing the current government and turning the narrative in its favour.
Therefore, it is upto the Opposition party to make the most of the ruling party's loss. In politics, there are no permanent enemies, they say. Well, RRR could be TDP's new weapon in that case!