Politics
Why Pawan Kalyan s Bro triggered a political storm in Andhra?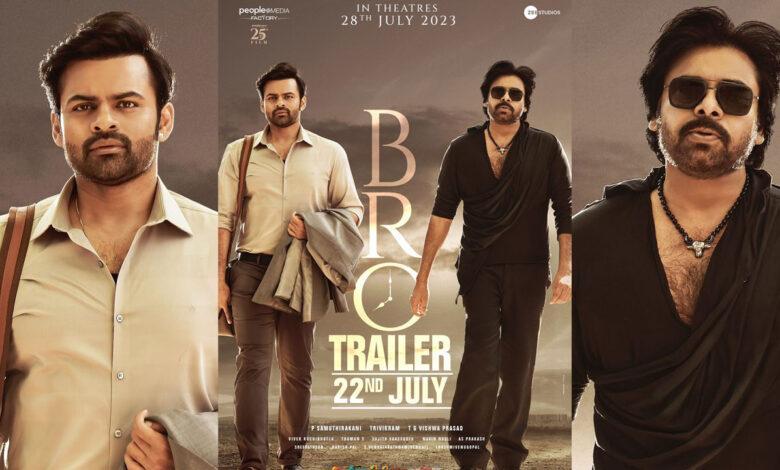 Actor-politician Pawan Kalyan's supernatural fantasy film "Bro" has kicked up a political storm in Andhra Pradesh with a state minister, who was allegedly mocked in the movie, demanding a probe into its funding.
Minister for Water Resources Ambati Rambabu was in Delhi, reportedly. To complain to the Central agencies about the investment made in "Bro".
Reiterating that there is a big scam in the making of "Bro", he met YSR Congress Party (YSRCP) parliamentary party leader V. Vijayasai Reddy on Thursday to discuss plans to lodge a complaint.
Rambabu, who will also be meeting other YSRCP MPs, is likely to take up the aspects. Of tax evasion as well as the diversion of funds with the Central agencies like the Income Tax Department. And Enforcement Directorate.
Rambabu rushed to the national capital after launching a scathing attack. On Pawan Kalyan, who is leader of Jana Sena Party, and makers of "Bro" for insulting and belittling him through a character called Shyambabu in the film.
The minister alleged that funds for the film were routed from abroad and also made allegations of money laundering. He alleged that "Bro" producer T. G. Viswa Prasad paid remuneration to Pawan Kalyan from the money he got from Telugu Desam Party (TDP) supporter and owner of IT companies in the US.
The minister also sought to know the Income Tax paid by the actor, who claims to have charged Rs 2 crore per day for shooting "Bro".
Rambabu wondered why the filmmaker was silent on his questions like the investment made in the movie and its collections and remuneration to Pawan Kalyan.
Meanwhile, Viswa Prasad denied the allegations. He, however, refused to divulge details like film's budget, remuneration to Pawan Kalyan and source of funds. He said he would provide those details if appropriate authorities seek to ask him.
"Bro" is a supernatural fantasy comedy directed by Samuthirakani and screenplay by Trivikram Srinivas. It is based on the 2021 Tamil film "Vinodhaya Sitham". The film stars Pawan Kalyan, his nephew Sai Dharam Tej, Ketika Sharma, Priya Prakash Varrier, and others.
A brief role of a character Shyambabu and especially a dance sequence in the film has angered the minister. The dance scene is said to be an imitation of a viral video clip of the minister's dance during Sankranti.
The minister targeted comedian and Jana Sena leader Prudhvi Raj, who played Shyambabu in the movie. He is seen dancing wearing clothes similar to what Rambabu wore while dancing during Sankranti celebration. The minister said that the comedian imitated his dance.
Prudhiv Raj, who quit the YSRCP to join the Jana Sena last year, denied Rambabu's allegation. He clarified that neither the dance sequence nor the dress he wore in the film was a copy of the minister.
"Who is Rambabu? I don't know him and I don't have to imitate him," said the comedian. He said he was given the role of a wayward man who goes to clubs and runs around girls.
The minister went to the extent of warning filmmakers and actors that they will have to face music if they try to belittle him. He told writer and director Trivikram Srinivas, who wrote the screenplay for Bro That if he keeps repeating this he will have to pay the price.
Rambabu, who believes that Pawan Kalyan deliberately designed the role and dance sequence to insult and belittle him, launched a personal attack on the actor. "I will also make films on Pawan Kalyan and his multiple wives. I am looking for a suitable title," he said.
Rambabu declared that his story will be about a man who enters the film industryWith the help. Of his movie star brother and becomes a big star himself, and goes On to have a series of failed marriages. He claimed that the story is getting ready and stars will be finalised soon. he suggested the title "MRO" (Marriage Relations Offender) on the lines of "Bro".
he also suggested some other titles targeting Pawan Kalyan over his marriages. The titles include "Nithya pelli koduku" (Forever a groom) and "Pellillu petakulu" (Broken marriages).
YSRCP leaders including Chief Minister Y. S. Jagan Mohan Reddy have been attacking Pawan Kalyan over his three marriages. They also call him the adopted son of TDP President N. Chandrababu Naidu. Pawan Kalyan, an ally of BJP, is trying to forge an alliance of the TDP, the JSP, and the BJP. With all the political players gearing up for next year's elections, the war of words between YSRCP. And Pawan Kalyan-led JSP may only get intense.