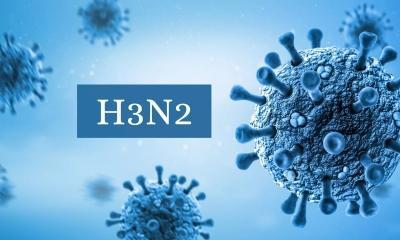 The Yogi Adityanath government in Uttar Pradesh has put all medical facilities on alert in view of rising cases of H3N2 virus in the state.
The health department has issued an alert in the state and a separate nodal officer will soon be nominated for this in every district.
The state government has also issued guidelines, asking officials to be vigilant about influenza-like illness.
According to the official spokesman, a 10-bed isolation ward will be set up in every district hospital while OPD will also have a separate room for patients suspected of influenza, so that they can be prevented from coming in contact with other patients.
Special vigilance will be in place for children, the elderly and those with serious illness.
The spokesman said that though the situation in UP was not alarming, care was being taken because the number of people infected with the virus is increasing in the state.
In the past 24 hours, eight children suffering from pneumonitis have been admitted to the hospital in Kanpur. Children have been admitted to the PICU built in the maternity block of Hallet Hospital. The PICU has been opened due to the admission of more children than the capacity in the maternity block 100-bed paediatrics. All children are complaining of difficulty in breathing with high fever.
In Barabanki, the number of patients with symptoms of influenza H3N2 is increasing.
Patients have been admitted on 230 beds from the district hospital to the Covid ward set up in the CHC.
Health officials have appealed to people to start wearing masks in public places in order to save themselves from the virus.