Community
Tirumala temple introduces facial recognition technology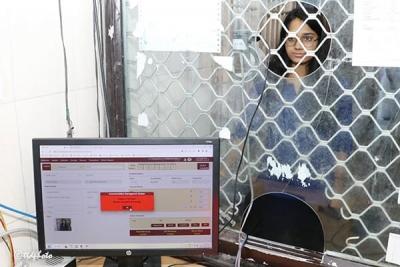 Authorities at Sri Venkateswara temple atop Tirumala at Tirupati on Wednesday introduced facial recognition technology for darshan on an experimental basis.
The Tirumala Tirupati Devasthanam (TTD), which manages the affairs of the richest temple, introduced the technology at Vaikuntam 2 and in the Accommodation Management System.
TTD officials said that the idea is to enhance transparency in tokenless darshan and allotment of rooms providing more effective services to the multitude of visiting pilgrims.
This new tech system will be used to prevent a person from procuring more tokens in Sarva Darshan (free darshan) Complex and also at the Caution Deposit refund counters.
Officials said that the use of the technology would also help them in denying darshan to people who come repeatedly, while other devotees have to wait for a long time. A devotee will not be allowed to have free darshan more than once a month.
The Facial Recognition Technology (FRT) will also be helpful for the TTD in ensuring that rooms for accommodation are allotted to genuine devotees at subsidised rentals. This is likely to check middlemen and touts, who book rooms at subsidised rentals and later transfer allocation to devotees by charging exorbitant prices.
The (FRT) is based on a software which classifies a single face based on gender, age, emotions, and features. It determines the similarity between two faces to evaluate a claim.
Depending on the results of implementation of FCT for Sarva Darshan and accommodation management system, the TTD will work out a plan to extend it to other wings.
The TTD said that a total of 71,387 devotees had darshan on February 27 while the total Hundi collection was Rs 5.71 crore.
The hill shrine attracts 50,000 to one lakh pilgrims every day. The number on special occasions like the annual Brahmotsavam and festivals goes up to 4-5 lakh.
The temple earns Rs 1,000 crore to Rs 1,200 crore from Hundi collections or offerings by devotees every year.
It was announced in November last year that the temple owns assets of over Rs 2.5 lakh crore including 10.25 tonnes of gold. The assets include land parcels, buildings, cash and gold deposits given as offerings by the devotees.