Special Stories
This survey reveals how people's behaviour will change in a post-pandemic world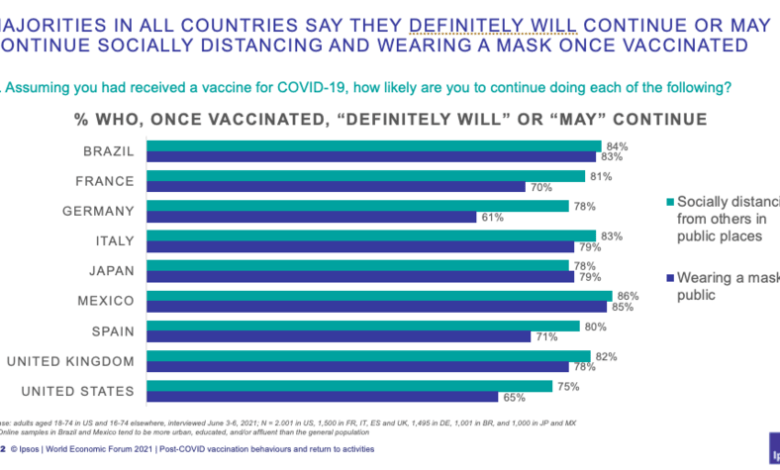 Around the world, more than 3 billion doses of the COVID-19 vaccine have been administered and some countries have made significant progress toward vaccinating the majority of their populations.
As a growing number of countries start to relax restrictions on travel, socializing, and masks, how will people react?
In early June, the polling company Ipsos, working with the World Economic Forum, surveyed 12,497 adults under the age of 75 in nine countries and asked them about their intentions. The participants were selected on the basis that they assumed they would have been vaccinated by the time restrictions were lifted in their home country.
At least three-quarters of respondents said they would continue with the practices of social distancing and wearing masks.
In Mexico, 86% of people will continue adhering to social distancing measures. Similarly, 85% of Mexicans polled by Ipsos said they will continue to wear a mask in public. Not far behind are Brazil (83%), Japan and Italy (both at 79%), and the UK (78%).
Ready to mingle?
Responses varied more widely when it came to public activities, however.
Japan was the least keen (at 38%) to return to sports events or concerts, while the US registered the smallest percentage of people (48%) willing to get back on public transport.
Conversely, these were the most positive responses:
82% of Italians are ready to go back to eating in restaurants
67% of Mexicans will use public transport
62% of people in Mexico are also ready to start attending sports events or concerts again
Vaccine hesitancy and inequities
The number of people being vaccinated continues to rise. According to figures compiled by Our World in Data, almost one-quarter of the global population has received at least one dose.
An estimated 34 million doses are administered each day, adding up to a running total of over 3 billion. Yet, just 1% of people in low-income countries have received at least one vaccine dose.
Vaccine hesitancy continues to be a problem in some parts of the world. In the US, some states have resorted to giveaways and incentives to encourage people to get their COVID jab. The BBC has even sought to debunk a series of viral videos that have falsely claimed the vaccines are making people magnetic.
Taking to the air
Perhaps unsurprisingly, once flying becomes a more realistic proposition, many people will still have reservations. Vaccine take-up numbers are at the heart of some of their concerns.
The country with the highest degree of optimism toward flying is, once again, Mexico. But across all nine countries surveyed by Ipsos, there is a marked reluctance to fly into countries where there is no vaccine available.