Community
Banni fight festival: Over 60 people injured in Kurnool on Dasara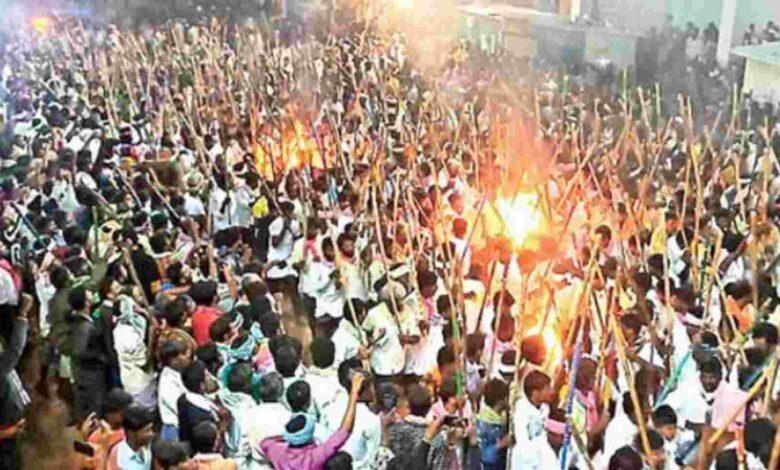 The traditional Banni celebrated as part of Dasara festivities at Devaragattu in Holagonda mandal of the district ended up turning violent, with more than 60 people suffering major injuries. The injured have been admitted to Adoni and Alur hospitals.
Kurnool superintendent of police Ch. Sudheer Kumar Reddy clarified that none of the injured are in a serious condition. Providing details, he explained that at least 50,000 people had arrived at Devaragattu village from Karnataka and Telugu states to watch the Banni ceremony of "demons" trying to snatch idols of Lord Mala Malleswara Swamy being thwarted by defenders.
Ancient tradition in Devaragattu
The annual Banni fight utsavam, also called karrala samaram, has been going on for hundreds of years. It started off in a grand manner on the Devaragattu Hill around Friday midnight. About 50 thousand people from various places in Andhra Pradesh, Karnataka and Telangana gathered on the hill to watch various ceremonies. Around 2,000 people participated in the fight with sticks.
According to folklore, Lord Siva had taken the form of Bhairava to kill two Rakshasas Mani and Mallasura. Siva had killed the two demons by fighting them with sticks. People consider fighting with sticks, getting injured and shedding blood a good omen.
In accordance with this belief, villagers of Neradiki, Neraniki tanda and Kothapeta represent followers of the Lord. Residents of Ellarti, Arikara, Maddigeri, Nitranatta, Sulavai, and Hebbetam represent followers of demons and try to take idols of Mala Malleswara Swami from Devaragattu to their respective villages.
What is supposed to be a fight in a lighter vein sometimes ends up violent. However, despite injuries, none files cases against another. People also do not hold grudges after the fight ends. Unconfirmed reports say at least 100 people have been injured.