Community
Rs 3 crore penalty on TTD for FCRA violation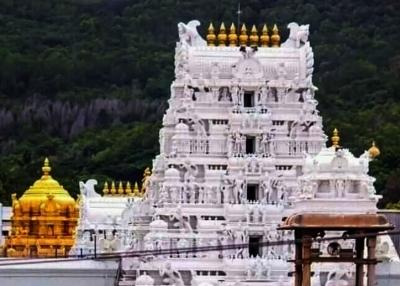 The Reserve Bank of India (RBI) has imposed a penalty of Rs 3 crore on India's richest religious trust, Tirumala Tirupati Devasthanam (TTD) for violation of Foreign Contribution Regulation Act (FCRA).
TTD chairman Y.V. Subba Reddy said on Monday that the RBI has imposed the penalty for not adhering to FCRA norms while depositing foreign currency dropped by devotees in 'Hundi' into the bank accounts.
He said the TTD's FCRA license lapsed in 2018 and since this has not been renewed yet, the TTD board is facing problems in depositing foreign currency in its bank accounts.
Subba Reddy also revealed that the TTD has paid the RBI penalty of Rs 3 crore in two installments. The TTD has also requested RBI to renew the FCRA license.
The TTD chairman said the TTD currently has foreign currency amounting to Rs 30 crore. The foreign currency was dropped by devotees anonymously in 'Hundi' at Tirumala temple.
The TTD manages the affairs of Sri Venkateswara temple atop Tirumala, considered as the world's richest Hindu temple, and some other shrines in different parts of the country.
Meanwhile, Subba Reddy reviewed the arrangements made at Tirumala for the summer season.
The TTD also decided to issue Divya Darshan tokens from April 1 for the devotees who walk up to the hill shrine.
Every day, 10,000 tokens will be issued per day for pilgrims using Alipiri walkway. Another 5,000 tokens will be issued for those reaching the temple through the Tirumala steps route.
Subba Reddy said during summer break, recommendation letters will be reduced. The TTD also decided to tighten the rules in the matter of allotment of rooms in Tirumala.
The TTD chairman said that with the introduction of face recognition technology, accommodation will be provided to devotees in a transparent manner.
Last week, the TTD announced that it has passed a Rs 4,411 crore budget for 2023-24, a big jump of 43 per cent over the previous year.
The budget for 2023-24 is said to be the highest since the TTD's inception in 1933.
The big increase in budget size was attributed to the phenomenal rise in Hundi collections or devotees' offerings at the ancient temple.
For the current year, the lion's share of revenues totalling Rs 1,591 crore are anticipated from Hundi and other capital receipts. Similarly, interest receipts are expected to generate Rs 990 crore, while Rs 500 crore is expected to be realised from laddu and other 'prasadam' sales.