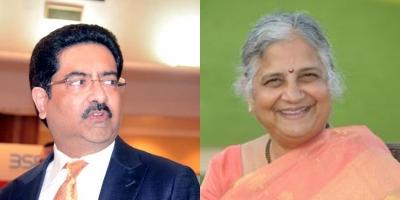 Author and philanthropist Sudha Murty and industrialist Kumar Mangalam Birla are among nine personalities who have been named for the coveted Padma Bhushan awards on the occasion of Republic Day 2023.
Other Padma Bhushan awardees include novelist, philosopher and screenwriter S.L. Bhyrappa of Karnataka. His novels are unique in terms of theme, structure, and characterisation. Bhyrappa has been among the top-selling authors in the Kannada language and his books, translated into Hindi and Marathi, which have notched good sales.
Another awardee is theoretical physicist and professor at the department of physics of Indian Institute of Science Education and Research, Pune, Deepak Dhar, who in 2022, became the first ever Indian scientist to be chosen for the Boltzmann Medal, the highest recognition in statistical physics awarded once every three years by IUPAP, for exceptional contributions to the subject. Dhar is an elected fellow of the of The World Academy of Sciences as well as of all three major Indian science academies
Indian singer Vani Jairam is best known as a playback singer in south Indian cinema. She has done playback for over 1,000 Indian movies recording over 10,000 songs.
Swami Chinna Jeeyar, who is also known as Sri Tridandi Srimannarayana Ramanuja Chinna Jeeyar Swami, is an Indian religious guru and yogi ascetic known for his spiritual discourses. He founded the Jeeyar Educational Trust (JET), with branches in places such as Hyderabad, Chennai, and the US, to help educate students in Vedic tradition. In addition, he is known for his performance of Vedic rituals of peace and harmony.
Indian scholar of linguistics and literature and an authority on Indian intellectual traditions Kapil Kapoor, spiritual leader, author and the fourth in the line of Raja yoga masters in the Sahaj Marg system of spiritual practice Kamlesh D Patel and playback singer, Suman Kalyanpur whose voice was often mistaken to be that of Lata Mangeshkar are also among the Padma Bhushan awardees.