Telangana
Sharmila to approach Telangana HC for protest permission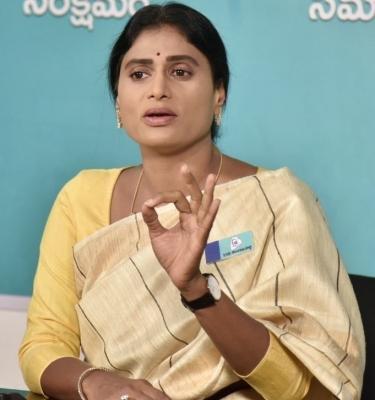 With the Hyderabad Police denying permission to YSR Telangana Party (YSRTP) for a day-long hunger strike at Indira Park on the problems faced by the unemployed, the party has decided to knock the doors of Telangana High Court.
The protest is planned under the umbrella of Telangana Students' Action for Vacancies and Employment (T-SAVE), a platform mooted by YSRTP president Y.S. Sharmila.
The party lashed out at Chief Minister K. Chandrasekhar Rao for its dictatorial treatment of those who raise voice against his failures and fake promises.
Blasting the state government for forcing the Hyderabad Police to refuse permission to T-SAVE hunger strike, YSRTP official spokesperson Gattu Ramachandra Rao said that it is shameful in a democratic setup to not let activists enter their own party office.
YSR Telangana Party held its Political Affairs Committee meeting Monday to discuss on the way forward.
Addressing the media after the meeting, Ramachandra Rao said that this is completely shocking and a sorry picture where Sharmila is repeatedly being targeted because KCR is now scared of her fight and commitment towards Telangana.
"We have been tirelessly fighting for the cause and the rights of the unemployed. Not only is the state government silent and arrogant, they are also depriving us of our right to fight and protest," he said.
"T-SAVE was proposed as a common platform and we had decided to conduct a hunger strike for a day near Indira Park. This plea was rejected by the city police. Is this fair on the part of the party that claims its emergence and existence to public movements and people's protests? Didn't KCR conduct numerous protests at Indira Park earlier? How can the rules be different for BRS and others?" added Ramachandra Rao.
"We have decided to approach the honourable court and get permission. Our Deeksha has the support of 39 social organisations and various political parties. When BRS can carry out dharnas in Delhi, why does it pose obstacles for others in Telangana? Isn't this because of the fear factor," he asked.