Telangana
TSRTC to run 2,427 special buses for Maha Shivratri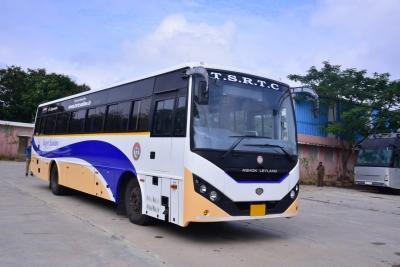 The Telangana State Road Transport Corporation (TSRTC) will operate as many as 2,427 special buses from various districts in Telangana and neighboring Andhra Pradesh on the occasion of Maha Shivratri.
The state-owned transport operator announced that the special buses will be operated from February 17 to 19.
Maha Shivratri is scheduled to be celebrated on February 18.
TSRTC officials said the buses for the devotees will be operated to 40 Shaiva Kshetras located in various parts of Telangana and Andhra Pradesh.
As many as 578 services will be operated to Srisailam, 481 to Vemulawada, 239 to Keesaragutta, 497 to Edupayala, 108 to Velala, 51 to Kaleshwaram, 52 to Komuravelli, 37 to Kondagattu, 16 to Alampur, 15 to Ramappa and 14 to Uma Maheshwaram.
Special buses will be available for devotees from MGBS, JBS, Dilsukhnagar, IS Sadan, KPHB, BHEL in Hyderabad to Srisailam. Advance reservation facilities will be available for these bus services.
Officials said the corporation will run more services, if required, for the convenience of devotees.
TSRTC Chairman Bajireddy Govardhan stated that the management is taking all measures to ensure that devotees do not face any difficulties on the occasion of Maha Shivratri. "It has been decided to run special buses to the 40 famous Shiva temples across the state," he said
TSRTC Vice-Chairman and Managing Director V.C. Sajjanar said that instructions have been given to the officials to arrange more special buses according to the traffic.
The TSRTC is also providing a 10 per cent discount on rented buses. Sajjanar advised devotees to use this rental bus facility.
The corporation had operated about 4,000 special buses during Sankranti last month. Over 2.8 crore people had earned the services. The TSRTC had earned more than Rs 165 crore by operating the special services in a span of 11 days.