TBA Opinion
People's Love & Adoration for Chandrababu Naidu tells a Story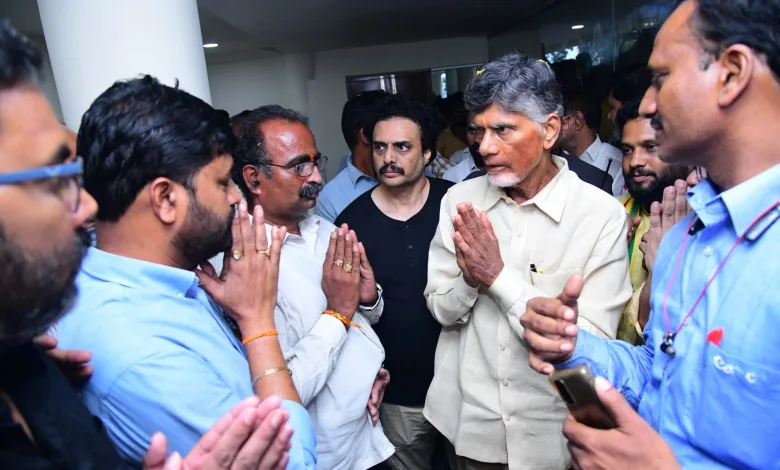 TDP Chief and former Chief Minister Nara Chandrababu Naidu was granted bail last evening and walked out of the Rajahmundry jail, almost in a heroic way. Accompanied by NSG guards, Chandrababu was greeted by his family and became emotional. Following this, party sources say, he was astounded to see the support for him from people who stood all along the road from Rajahmundry to Gannavaram, his residence.
It took him almost 12 hours to reach his residence (which is usually a 4 hour drive). Chandrababu also thanked every Telugu person and leaders from across the country who stood by him and supported him. While many of his followers slept on the roads, many touched his feet, including his own family members. This 53-day absence of Chandrababu Naidu has shown that:
AP Chief Minister Y.S. Jaganmohan Reddy's misgovernance and desperation has escalated to an extent where he continues to misuse government resources and institutions
Law & order situation in the state has gone for a toss and the police are behaving like hooligans, taking away people's basic democratic rights.
With Chandrababu out of jail, this could impact Telangana election results and benefit Congress. But, Jana Sena and BJP in Telangana may get impacted in the state.
In Andhra, the decision is more or less clear on Jagan's governance and lack of development. And, TDP is very likely to counter every move from the YSRCP in the upcoming elections and with renewed vigour.
Telugu states have also discovered a new leader in Chandrababu's wife, Nara Bhuvaneswari, who carried the campaign against the YSRCP, in Chandrababu's absence.
The impact of Chandrababu Naidu on Telugu people also led them to unite across multiple places across the world and show their love and support for him.
While political experts and analysts initially understood Chandrababu's time in jail as a loss to the Telugu Desam Party at large and were also announcing TDP's decline, this has now proven that the TDP found new vigor and energy with resorted hope that Chandrababu Naidu will steer the party to much greater heights.
Now, it is a wait and watch game to witness how Chandrababu's jail time will impact Andhra Pradesh's upcoming Assembly elections in 2024.