TBA Opinion
100 Days of Lokesh's Padayatra: A Game Changer for 2024 Elections?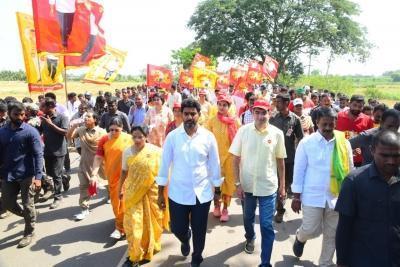 100 Days of Lokesh's Padayatra….TDP's Chief N. Chandrababu Naidu's son and youth leader, has embarked on a padayatra (Yuvagalam) across Andhra Pradesh. To connect with the people and revive the party's fortunes ahead of the 2024 assembly elections. Lokesh's padayatra, which started on October 2, 2022, from Naidu's native village Naravaripalle in Chittoor district. Aims to cover 3,648 km in 150 days, touching all the 13 districts of the state.
Lokesh who is also the TDP general secretary. And the leader of the opposition in the legislative council, has been highlighting the failures. Of the ruling YSR Congress Party (YSRCP). Led by chief minister Y.S. Jagan Mohan Reddy and promising to bring back the development and welfare schemes initiated by. His father during his tenure from 2014 to 2019. He has also been raising issues such as unemployment, farmers' distress, corruption, law and order, education.Health care and social justice.
Strong voice against Misgovernance
100 Days of Lokesh's padayatra is seen as a crucial step to boost. His image and credibility as a leader who can take on Jagan in the next elections. Lokesh, who lost his maiden assembly election from Mangalagiri constituency in 2019. By a narrow margin of 5,200 votes, has been facing criticism from his political rivals and some sections. Of the media for being inexperienced and incompetent. He has also been accused of nepotism and dynastic politics by the YSRCP and its ally BJP.
However, Lokesh has been trying to overcome these challenges. By reaching out to the masses and showcasing his vision and plans for the state's development. He has been interacting with various sections of society such. As farmers, women, youth, students, workers, traders, professionals and minorities and listening to their grievances and aspirations. He has also been addressing public meetings and rallies along his route and mobilizing support for his party.
Lokesh's padayatra has received a positive response from the people who have been expressing their dissatisfaction with the Jagan government's performance and policies. Many people have been joining Lokesh's march and extending their solidarity and support to him. Lokesh has also been getting backing from his party cadres and leaders who have been accompanying him in different segments of his journey. His father Naidu has also joined him on several occasions and praised his son's efforts and courage.
Personal Transformational Journey
Lokesh's padayatra is expected to have a significant impact on the political scenario of Andhra Pradesh in the run-up to the 2024 elections. It is likely to rejuvenate the TDP which suffered a humiliating defeat in 2019 when it won only 23 out of 175 assembly seats and three out of 25 Lok Sabha seats. It is also likely to boost Lokesh's stature and popularity as a potential chief ministerial candidate who can challenge Jagan's dominance. It is also likely to expose the failures and shortcomings of the Jagan government and create a demand for change among the people.
Lokesh's padayatra is not only a political campaign but also a personal journey of transformation and learning for him. He has been gaining confidence and experience as a leader who can understand and address the issues and problems of the people. He has also been improving his communication skills and public speaking abilities. He has also been displaying his humility and simplicity by walking on foot, eating at roadside eateries, sleeping in tents and mingling with common people.
100 Days of Lokesh's padayatra is a bold and ambitious initiative that can change the course of Andhra Pradesh politics in the coming years. It is a test of his endurance and determination as well as his appeal and charisma among the voters. It is also a reflection of his commitment and passion for serving the state and its people.