TBA Opinion
Chandrababu meeting with Amit Shah. Whats Cooking?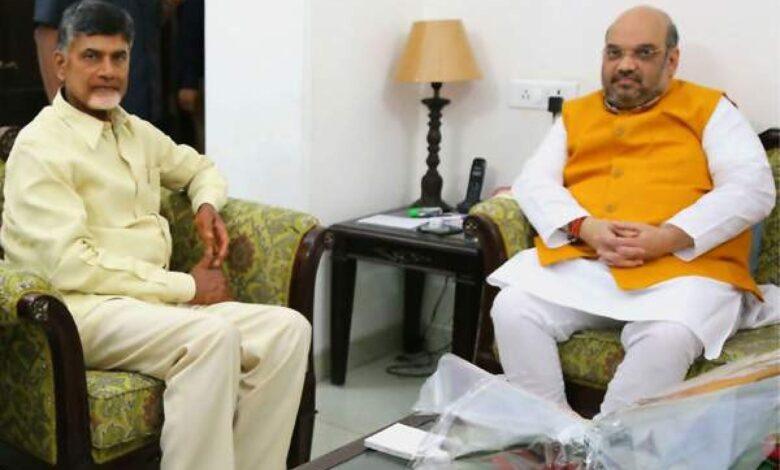 The political scenario in Andhra Pradesh is heating up as speculation. Is rife about a possible alliance between the Telugu Desam Party (TDP). And the Bharatiya Janata Party (BJP), following a meeting between TDP chief N. Chandrababu Naidu and Union Home Minister Amit Shah in New Delhi on June 4th.
This was the first meeting between the two leaders since 2018, when the TDP walked. Out of the BJP-led National Democratic Alliance (NDA) over the issue of special status. To Andhra Pradesh and contested independently, without any alliances in 2019 assembly elections. Following this, the TDP lost while the YSRCP won with a thumping majority in the state in the 2019 elections.
Move to Counter TRS in Telangana?
So, this latest meeting has triggered curiosity among political observers and analysts, as it comes at a time when both Telangana and Andhra Pradesh are witnessing a fierce political battle between the ruling parties and the opposition. In Telangana, where assembly elections are due later this year, the BJP is trying to emerge as a strong alternative to the Telangana Rashtra Samithi (TRS), which has been in power since 2014. The TDP, which has a significant presence among the settlers from Andhra Pradesh in Hyderabad and other urban areas, could be a potential ally for the BJP in wooing this vote bank.
In Andhra Pradesh, where assembly elections will be held along with the Lok Sabha polls in 2024, the TDP is facing a tough challenge from the ruling YSR Congress Party (YSRCP), which has been accusing Naidu of misrule during his tenure as chief minister from 2014 to 2019.
Meanwhile, the BJP, which has a marginal presence in the state, is looking for a revival by joining hands with actor-turned-politician Pawan Kalyan's Jana Sena Party (JSP), which has some influence among the youth and the Kapu community. The JSP chief, who met several BJP leaders during his visit to Delhi in April, also called on Naidu later and reportedly discussed the possibility of a three-party alliance with the TDP and the BJP.
Will BJP-TDP work in Telangana?
While neither Chandrababu Naidu nor Shah has officially confirmed or denied any talks of an alliance, sources say that they discussed state politics and possible electoral strategies in both Telangana and Andhra Pradesh. Some BJP leaders in Telangana are said to be in favour of an alliance with the TDP, as they believe that it would help them counter the regional sentiment that the TRS has been exploiting. However, some others are wary of aligning with Naidu, as they fear that it would alienate their core supporters and give ammunition to their rivals to accuse them of compromising on their ideology .
Alliance in Andhra could risk TDP's image?
Similarly, many TDP leaders are apprehensive of joining hands. With the BJP, as they think that it would damage their party's image and credibility. Among their loyal voters, especially the minorities and the backward classes. They also argue that Chandrababu Naidu's decision to quit the NDA in 2018. Was based on a principled stand for securing special status. To Andhra Pradesh, which is still a popular demand among the people of the state. And, given that BJP has not honored any of its promises for Andhra, this could be a counter-productive move for the TDP in AP.
However, some political analysts opine that Naidu might be exploring the option. Of an alliance with the BJP as a tactical move to counter his arch-rival and. Andhra Pradesh Chief Minister Y.S Jagan Mohan Reddy, who has been maintaining cordial relations. With Prime Minister Narendra Modi and Amit Shah. They also suggest that Chandrababu Naidu might be trying to send. A signal to his own party cadres and supporters that he is still relevant and influential in national politics.
Testing Waters & Keeping Options Open
Whatever may be cooking between TDP and BJP, it is clear that both parties. Are keeping their options open and testing the waters before taking any final decision on their alliance. The outcome of their talks may depend on various factors such as their respective strengths. And weaknesses, their electoral prospects and expectations, their ideological compatibility and flexibility, and their mutual trust and understanding.
As of now, it seems that both parties are playing. A wait-and-watch game, while keeping an eye on the changing political dynamics in both Telangana and Andhra Pradesh. Given that BJP has lost its face in Karnataka, it is now focussing on gaining the goodwill. And votes of Telugu states, which are driven by caste and regional sentiments and are extremely tough. To make way through – especially for a religion-based party like the BJP.