TBA Opinion
Opposition parties demand probe into Andhra firm receiving 25 tonnes of heroin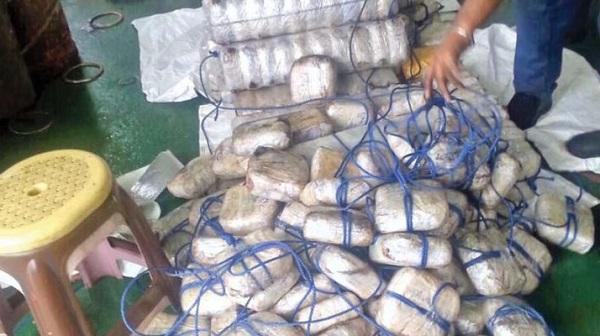 In a curious case, three tonnes of heroin was seized at Mundra port. Well, that's just a tip of the iceberg as the drug smugglers had earlier imported 24 tonnes and placed it in the distribution channel that is operational in several parts of the country.
Going by the estimate of the Directorate of Revenue Intelligence (DRI) that the heroin seized was worth Rs. 9,000 crore, the earlier consignment that was sneaked into the country would been valued at more than Rs. 70,000 crore.
A deeper look into this revealed that Aashi Trading Company, based out of Vijayawada in Andhra Pradesh, had reportedly received 25 tonnes in June this year and allegedly cooked up a record that the "semi cut talcum powder blocks" which are similar to the material seized by the DRI, were transported to a New Delhi-based trader Kuldeep Singh.
The consignment was shipped by a lorry bearing number RJ01 GB 8328 that is allegedly owned by Rajasthan-based Jaydeep Logistics. Documentary evidence also revealed that the lorry did not cross any tollgate on the 1,176-km route between the port and New Delhi. "Either the material is still in Gujarat, which is most unlikely, or smuggled to other places," sources said.
The Delhi-based trader is mostly a fake destination as Kuldeep Singh was not a registered dealer. The Aashi company was registered last year in Vijayawada on the pretext of exporting rice through Kakinada port. But the lone consignment it received was through the same channel to Mundra port from where it was shipped to other destinations.
The authorised signatory of Aashi Trading Company, Machavarapu Sudhakar, was a resident of Chennai and set up a proprietorship firm in the name of his wife Vaishali and obtained licenses.
Significantly, the Central GST authorities through whom Sudhakar obtained Goods and Services Tax Identification Numer (GSTIN) mapped the business entity in Seetharamapuram division of Vijayawada though the residential address given in Satyanarayanapuram falls in Benz Circle division.
Meanwhile, the Telugu Desam Party and the BJP have demanded a detailed probe into this seizure of drugs and why they've made their way into Andhra Pradesh.