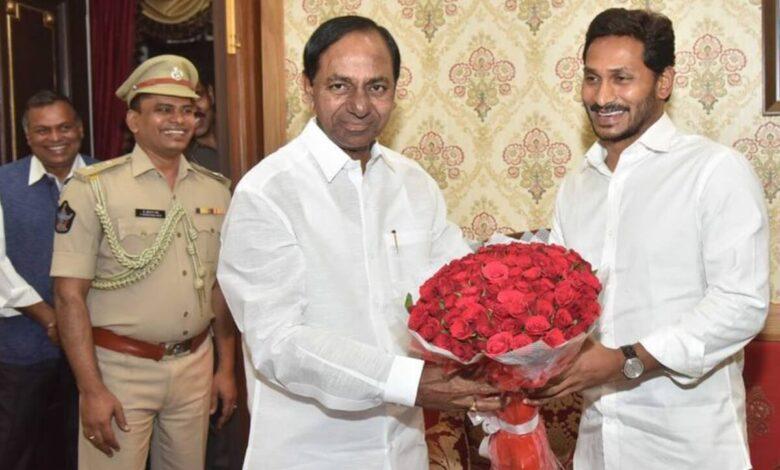 Of late, we have been witnessing Telangana Chief Minister K. Chandrasekhar Rao going all ballistic over Prime Minister Narendra Modi and the BJP. While it is understandable that his attempts to create an alternative national front against the BJP with opposition parties has not come to fruition, it is evident that he is gradually sounding the poll bugle in Telangana.
Given that KCR and his party, Telangana Rashtra Samithi have taken by-election shocks from the BJP which created a space as the principal Opposition party in the state, beyond Congress, the Chief Minister and his party leaders have been on tenterhooks. But, KCR has been leaving no stone unturned when it comes to hitting back at the Modi government at the Centre.
Interestingly, in the process of giving counters to the BJP and Modi government, KCR has also begun mocking his friend and ally from the neighbouring state of Andhra Pradesh. In his recent speech, he mocked at how Andhra is struggling financially, development-wise as well as with power deficit. It is important to note that YSRCP and BJP are allies.
Taking a dig at Jagan, he said: "Telangana is not facing any power outages and we have ensured that we don't face them anymore. That way, the situation is bad for AP and even in Delhi, there are power outages," he mentioned.
What is surprising is that KCR's dig at Modi is well-known and expected but his sarcasm for his friend Jagan has not been going down well with YSRCP supporters. Quite a number of them have been voicing their disagreement with KCR's distasteful remarks against the Jagan government. In this context, it is important to consider that even Minister for IT in Telangana, K.T Rama Rao, also has mocked Andhra for its current distress multiple times during his speeches.
Political analysts say that KCR is known to change his stand often, depending on the elections. Therefore, though this may seem like a temporary farce of a show by TRS against Jagan, internally, there is no bitterness.
However, sources in the Telugu political circle say, although KCR may not mean it and may have made statements against Jagan just for the optics, Jagan may not really receive it that way. "As someone with megalomaniac tendencies, Jagan is someone who is vengeful and not trustworthy. So, things can go bad between them at any moment" said a senior political analyst.
Given that this situation could arise soon, it is better for KCR to be watchful before making too many enemies which could harm his political future.