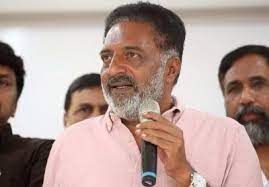 Actor Prakash Raj has been at the centre of storm during MAA elections and now, he's in the limelight for suddenly appearing with Prashant Kishor and TRS leaders. In the latest news, he also hit out at Jaganmohan Reddy-led government over the controversy around the movie Bheemla Nayak.
In a tweet to the State government, he said: "AP government needs to put an end to this onslaught and let cinema thrive. He questioned the misuse of power and one upmanship tendencies in the film industry. The actor wondered as to how the government can claim to be encouraging the film industry."
"How can we believe it. If there are any differences, they should be settled in the political arena and should not make the box office target of vindictive action," he said.
Additionally, what's got people talking is his appearance when TRS Chief and Telangana CM K. Chandrasekhara Rao met with Maharashtra leaders in Mumbai recently. The rumour around this is that Prakash Raj has been promised a Rajya Sabha MP seat by TRS and hence, after his tryst with Karnataka, he is now hanging around in Telangana.
But, what is surprising is how the actor is now jumping from one state to another, for want of political entry. However, with all this leading to just another actor's gambit in politics, it looks like it is a same cycle in every state where actors suddenly are at the centre of political storms in the Telugu states.
How this will turn out for Prakash Raj, given that Prashant Kishor is set to take over TRS' Assembly elections campaign in Telangana, is now getting interesting!