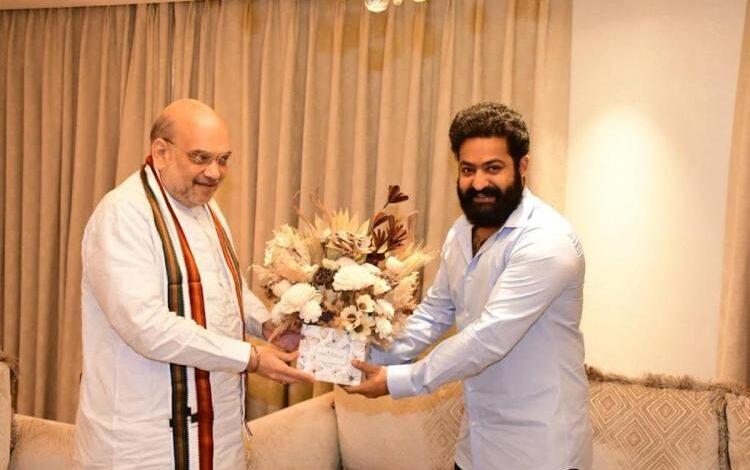 Recently, Home Minister Amit Shah met two popular personalities who were seen as those loyal to the Telugu Desam Party (TDP).
The first meeting was with media baron Ramoji Rao, in which the BJP leader apparently requested the ETV Group to support the saffron party in the South. It is important to note that assembly elections are due in Telangana in 2023 and in 2024 in Andhra Pradesh. Sources say that given that BJP is trying to make inroads into the South, it has sought ETV's support because the media network extends to the entire South and East.
Second meeting came as a surprise to many. It was with Movie Star Jr. NTR. Though news sources state that Amit Shah loved Jr. NTR's acting in the movie RRR and wanted to congratulate the actor personally, inside sources say it is a different story. Jr. NTR earlier supported the TDP, given his family founded and still runs the party.
Given that Ramoji Rao and Jr. NTR were TDP loyalites, the BJP is now ruffling TDP's feathers by meeting and indirectly sending a message that it will go to any extent to make TDP crumble.
The optics of both the meetings clearly send a political message to the TDP to be well aware of what the saffron party is upto. Interestingly, if one looks at these moves, it comes at a time when Amit Shah told the media that BJP's doors are shut for the TDP. This statement came from Shah, following TDP National President N. Chandrababu Naidu's meeting with PM Narendra Modi at an all-party meet in Delhi on August 6th.
Based on media buzz, media persons kept predicting that BJP-TDP alliance could be on cards for 2024 assembly elections, after the TDP decided to split with the BJP in 2018. However, following Shah's statement, Chandrababu Naidu hit back stating "who is Amit Shah to decide any party's future? In a Democracy, no one can be in power permanently."
Both the meetings of Amit Shah came right after this statement by Naidu. This also clearly indicates how BJP is playing its cards right. Following these meetings, many reports indicate that there could be a TDP-BJP and Jana Sena alliance for Assembly Elections in AP in order to demolish YSRCP. However, it remains to be seen how this game of alliances will be played by the BJP in AP despite not having any base there, while also being in partnership with the YSRCP in AP.
So, is it anyone's prediction on what's really brewing in BJP for the Telugu States? Only time will tell.