TBA Opinion
Anti-Hindu state? Another day, another temple demolished in AP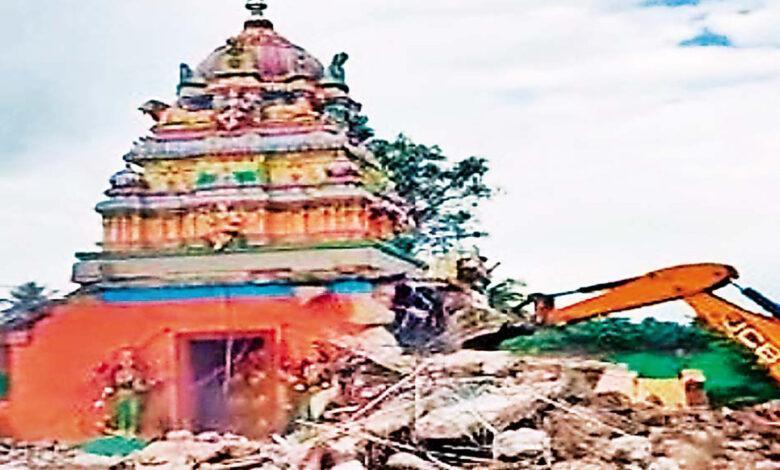 In another shock to the state and its people, the government of Andhra Pradesh demolished the Neelamani Durga temple in the Pathapatnam area of Srikakulam, stating road widening as the cause. Interestingly, no notices were given either to the residents in the vicinity or temple authorities in advance.
Crying foul over this government and its attitude, temple priests and locals informed the police that the demolition was done without serving any prior notice. Reacting strongly to this the BJP and the TDP are going hammer and tongs over the Y.S. Jaganmohan Reddy-led government, alleging that the government is not only "anti-Hindu" but is also hell bent on destroying Hindu culture and its monuments along with spreading Christianity.
Making of a Christian state?
The Jagan government has been receiving flak for gradually "converting Andhra into a Christian state" ever since he became the CM in May 2019. Apart from mass conversions of people from Hinduism to Christianity, there have also been several cases of temple demolitions, idols desecration reported from across big and small temples of the state.
Commenting on this latest demolition drive against Hindu temples, Telugu Desam Party (TDP) MLC Nara Lokesh termed the action atrocious. "In the two-and-a-half-year rule of YS Jagan, Antarvedi temple chariot was burnt, idols at ancient Ram Theertham were destroyed. God was insulted in so many ways," he said in a tweet.
Additionally, even Central BJP leaders reacted strongly to this incident. BJP national secretary and party's Andhra Pradesh unit co-in charge Sunil Deodhar tweeted, "In the past, anti-Hindu criminals (still roaming freely) in Andhra Pradesh vandalised idols and busts in temples. Now, the evangelist CM YS Jagan and his cohorts have legitimised the temple destruction in Andhra Pradesh. The BJP strongly protests the destruction of Neelamani Durga Devi Mandir in Pathapatnam."
Even BJP Rajya Sabha MP GVL Narsimha Rao said that "CM YS Jagan must apologise to Hindus for the continued attacks on temples and desecration of idols." He demanded that those behind the destruction of the temple should be booked for hurting Hindu sentiments.
'Shifting agenda away from drugs'
According to political analysts, this could be a hidden agenda of the YSRCP to drive the narrative away from the TDP office attacks and the drug mafia in the state. "This recent temple attack drives the entire agenda on religious lines, which is better for YSRCP to consolidate votes and also it serves their purpose because it takes the focus off the growing Drug cultivation and supply from AP, which the current government is answerable to," said an analyst.
Going by the continuous attacks on Hindu temples, it is a point to ponder on why the police in AP also remain silent at the behest of a "controlling government" and give immature excuses and reasons to back the YSRCP government's misdeeds. Looks like people are put to a test for electing a party by giving them an absolute majority.